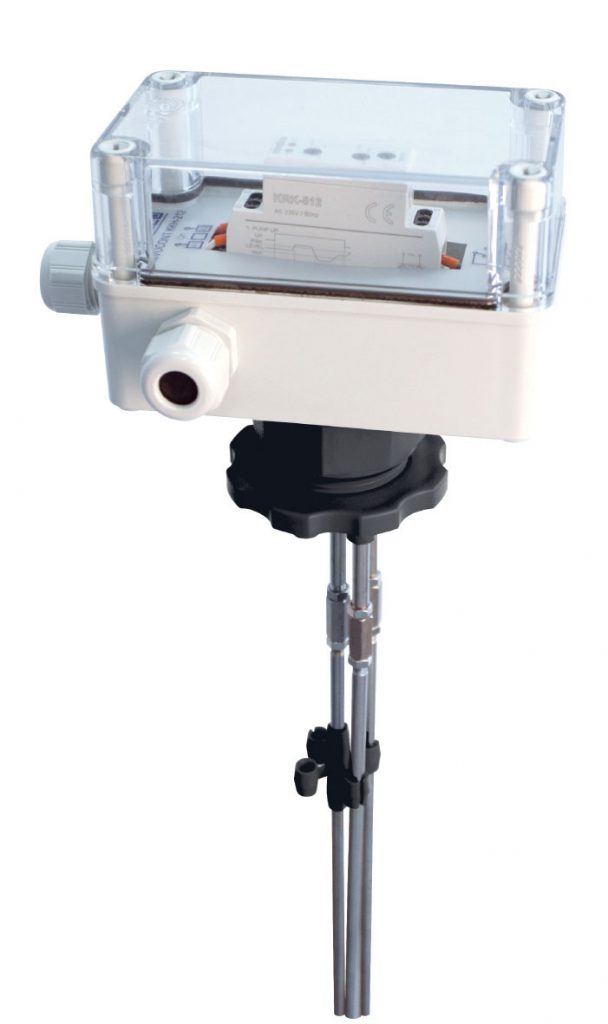 One or multiple probes are installed in the tank for point level detection. Once the desired level reached, the electronics will actuate switch contact. Probe type switches are easy to install and use.
Conductive
Level switches, based on the conductivity principle, can be applied to liquids with conductivity higher than 10 µS/cm. For detecting the level, probes are immersed into the tank. These probes (and the tank wall if conductive) serve as contacts of an electric circuit. Probes can be of single or multiple rod versions. A maximum of 4 probe rods can fit in the multiple probes with an additional reference probe if tank wall is not conductive. The probe length should be in accordance with the level to be detected. Filling liquid in the tank will change the electrical conductivity between tank wall (or the reference probe) and probes. The established connection will be converted and will activate a relay providing for output.
| TYPE | SEPARATE / COMPACT / SUBMERSIBLE |
| --- | --- |
| MEASURING VALUE | POINT LEVEL |
| MAX PROBE LENGTH | 3M |
| OUTPUT SIGNAL | 1 OR 2 SPDT |
| PROCESS TEMPERATURE | -20 °C … +50 °C |
| AMBIENT TEMPERATURE | -20 °C … +50 °C |
| PROCESS CONNECTION | THREADED |
RF Capacitance
New generation capacitance level switches unlike the traditional capacitive principle they operate as capacitance meters in the RF (radio-frequency) range. The most advantageous feature of this technique is that the instrument has great build-up immunity; therefore the unit is an excellent choice for those adhering, sticky substances where the rival vibrating or the other contacting measurement technologies are not applicable.
| TYPE | INTEGRATED / COMPACT |
| --- | --- |
| MEASURING VALUE | LEVEL, DISTANCE |
| CALCULATED VALUE | VOLUME, MASS |
| FREQUENCY OF MEASUREMENT | 25 GHZ |
| MEASURING RANGE | 0.2M - 23M |
| OUTPUT SIGNAL | 4-20MA |
| COMMUNICATION | HART |
| PROCESS TEMPERATURE | -30 °C … +180 °C |
| AMBIENT TEMPERATURE | -20 °C … +60 °C |
| PROCESS CONNECTION | THREADED FLANGED AND SANITARY CONNECTION. |