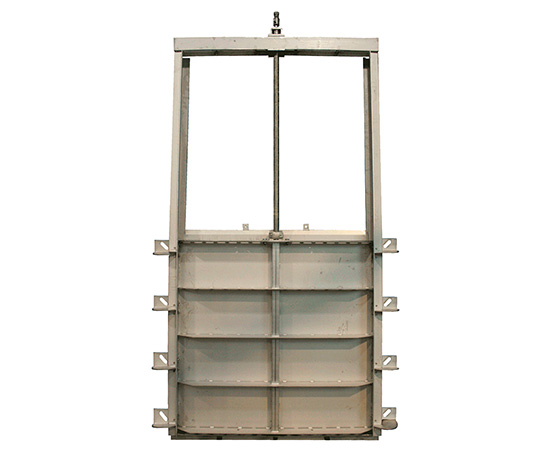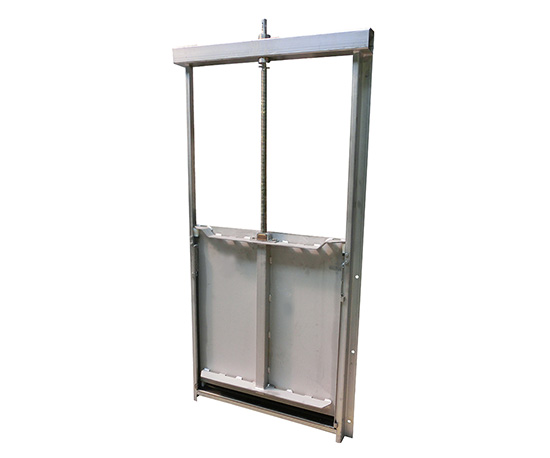 Sluice Gates and Penstocks are water control gates or structures which control flow. They are also known as Sluice gates, Slide gates or Stop gates are designed for flow regulation, diversion, level control or isolation and are flow control and isolation valve for fluids associated with water, wastewater, sewage treatment plants, power generation, irrigation schemes, and process plants. Sluice Gates are mainly used in applications where safe and reliable performance is essential and where outstanding product longevity is desired. We supply sluice gates that are preferred for high-head (up to 200′) and high debris (water treatment) environment as well as for critical gateways in treatment plants. Each gate can be custom built to your requirements.
Cast Iron sluice gates are well known all over the world throughout for having an extremely long life with very low maintenance. They can even survive for over 100 years. The sluice gates are mainly used at the end of a pipeline or to cover a wall opening, and they are best suited for submerged applications with a high head, presence of large amounts of debris, corrosive environments, and critical in plant flow control. The uniquely designed bronze seats lock into a dovetailed groove in the gate frame and disc which creates a tight seal for low leakage. High tensile strength adjustable bronze wedges are furnished with all gates. Side wedges are keyed directly to the sluice gate disc for preventing rotation. This system allows for the gates to operate without the interference of the seats until the last few inches of travel, ultimately reducing seat wear. The cast iron sluice gates can be custom designed to meet the needs of your application. Fates are available for submerged service, wall mounting, downward opening, and embedded, round manhole, gate-within-a-gate, and flange mount applications with manual, hydraulic, or electric actuation options.
Dutco Tennant LLC has been serving customers in the Middle East and GCC region for over four decades. We have supplied sewage sluice gates to a large number of projects in these countries: UAE (Abu Dhabi, Dubai, Sharjah, and the Northern Emirates), Saudi Arabia, Qatar, Oman, Bahrain, and Kuwait.
Features and Benefits –
Wide range of material applications and sizes
Multiple operations, including handwheel or gearbox
Optional pressure seating
Special factory-fabricated sizes
Wide range of manual operating systems available
Remote electrical actuator options
Robust construction with minimum maintenance
Other Details
Channel penstocks are 3-sided sealing penstocks that are ideal for installation in channels. The seal is attached to the gate plate, which allows for easy replacement. Due to the high quality of the seal, our channel penstocks are extremely durable and withstand the highest adversities