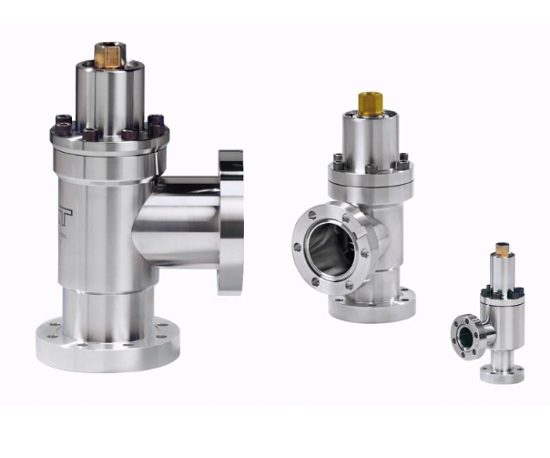 Agilent's vacuum valves are engineered for reliability, performance, and value. These valves optimize conductance, operate in a wide variety of applications, provide a choice of actuation, and have a variety of mounting flanges.
All-Metal UHV Valves Series 54
Agilent is pleased to offer the all-metal UHV Series 54 valves in partnership with VAT, which are suitable for extreme, ultrahigh vacuum (UHV/XHV). They can be manually operated with a standard hex wrench, so no torque wrench is required.
Thanks to the 'hard-on-hard' metal seals, these valves can operate thousand of items before requiring maintenance. Flex vatring technology enables high sealing forces with comparably low axial forces. Any mounting orientation possible.
Aluminum Block Valves Series 26
Agilent Series 26 aluminum block valves are compact, reliable valves used in rough- to high-vacuum applications for semiconductor and instrument manufacturing, R&D, and industrial vacuum systems. These block valves will reliably achieve 3 million cycles before first service in most applications.
These valves are available in right-angle and inline versions, and can be manually and pneumatically operated. The pneumatic valve is also available with a position indicator, delivering an electrical output when the valve cycles.
Aluminum Gate Valves Series 12
Agilent is pleased to offer Series 12 aluminum gate valves in partnership with VAT. The Series 12 valves provide a cost effective, low-particle, low-profile means of isolating a high-vacuum pump, and are a less expensive alternative to stainless steel valves. Series 12 valves are clean, economical, and smoothly actuated.
The aluminum gate valve has a small flange face-to-face profile that makes it easy to install and maintain. The valves are available in manual, push-rod, and double-acting pneumatic operation. The pneumatic valves are available with solenoid (pilot) valves at 115 VAC, 220 VAC, and 24 VDC, and a position indicator.
Electromagnetic Block Valves
Agilent direct-acting electromagnetic block valves (EMBV) eliminate the need for compressed air in a wide variety of vacuum applications. These normally closed valves are compact, maintenance-free, and have a service life of 250,000 cycles.
EMBVs are available with NW16 or NW25 connecting flanges, and with finished aluminum or nickel-plated bodies, for mildly corrosive applications. Multiple voltage compatibility options are available.
Stainless Steel Valves
Agilent stainless steel tube valves are designed to connect our rough-vacuum and high-vacuum pumps to your system. Delivering maximum conductance and sized for easy, convenient installation, these angle and inline valves are ideally suited for systems requiring high reliability with low outgassing.
In combination with our popular hardware products, the new stainless steel valves offer a complete, bundled solution for your vacuum system, making it possible for convenient one-stop shopping for everything required to connect Agilent vacuum pumps to your system.
Variable Leak Valve
The Agilent variable leak valve includes a movable piston with an optically flat sapphire that meets a captured metal gasket. This forms a seal completely free from friction, seizing, and shear. The sapphire's movement is controlled through a threaded shaft-and-lever mechanism that provides a mechanical advantage of 13,000 to 1.