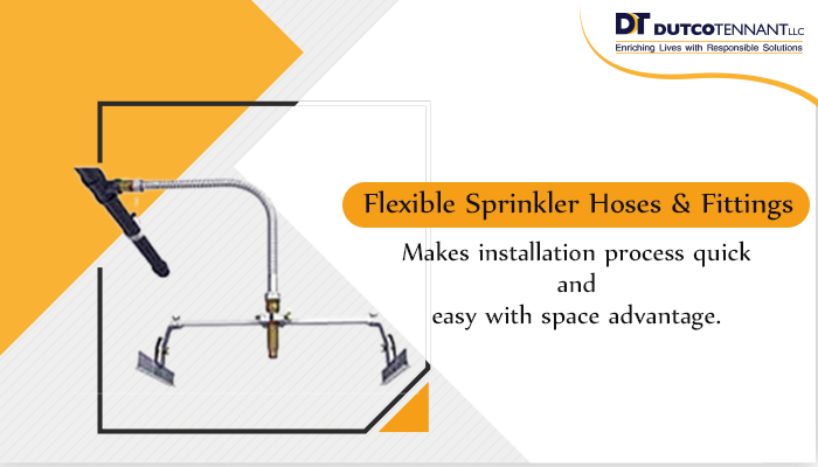 ADVANTAGES OF FIREFIGHTING FLEXIBLE HOSE
Flex drops are flexible hose assemblies which comprise a fitting that is attached to the branch line and fitting for the sprinkler along with a flexible hose in the middle. These sprinkler flex drops have been in use for replacing the hard drops out of the branch line. In modern days, manufacturers are continuing to use better flex drop products which are much easier for installing and boosting productivity.
One of the toughest hurdles which you need to deal with if you are a sprinkler contractor is that firefighting flexible hose is comparatively costlier. But in reality, hard drops have a higher labor cost and a cheap material cost. But in case of the flexible ones, they must have a higher cost for the materials but the corresponding labor savings make them extremely cost-effective. Another advantage of these hoses is related to the testing. During rough-in, the flex drops with heads can be installed which allows the system to be tested before the ceilings are installed and require less time for the final placement of the sprinkler heads. The head would be allowed to move into the place by the flexible connection without even draining the system. Hard drops are made up of several and if you are missing any of those fittings then you are unable to even complete the drop. With flex drops, all the fittings are contained in a single unit. They are also capable to bend and rotate in all directions which is very helpful when you are working around an obstacle in a tight place. Flex drops are available in several lengths for adequate pipe support and they don't even need hangers and are available in sizes for fitting a varied range of applications including both suspended ceilings and drywall. They can be installed along with a varied range of mounting brackets which allows you to do things like directly mounting in the center of a tile or mounting the bracket and head in the track without even touching the tiles.
Firefighting flexible hoses are made of a corrosion-resistant material that comes in either a braided or non-braided line. They can be ordered with an outlet reducer for the sprinkler head or at the outlet with a 90-degree bend that is beneficial for using under ductwork or in tight spaces. The overall flex drops may also have a higher cost of the material but in the return, you will receive quality, and cleaned finished products which are worth the investment. These assemblies must be a great consideration for your next project.
Advantages -
        Fewer labor costs and quick installation
        Easy relocation of sprinklers within a short distance with ceiling modifications without modifying or re-cutting of the existing fittings and pipe.
        They have the ability to get installed in several types of ceilings.
        They are ideal for installation in vibrating applications or in seismic.
        They are ideal for fast track construction projects.
        Requires very few tools for installation.
For all your projects in the Middle East, you can get the most advanced range of firefighting flexible hose from us. Our offered products offer a cost-effective solution for the installation of fire sprinkler systems which results in a quick and easy way to connect the sprinkler heads to the branch lines. Each drop assembly comes with one stainless steel flexible hose, one branch line connection nipple, one sprinkler reducing nipple and bracket system. You can get the most updated range of products from the house of Paratech from us.
Get a Quote