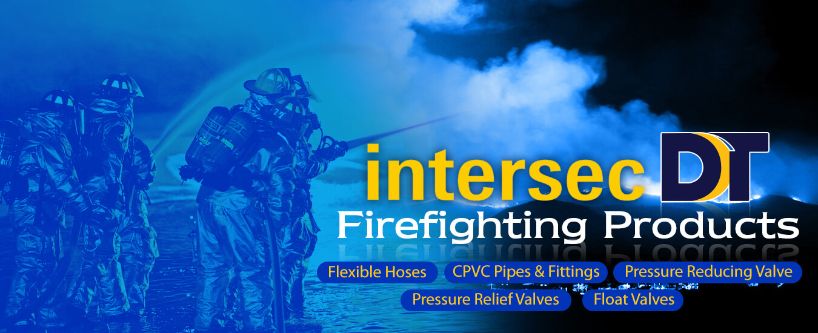 Dutco Tennant LLC invites you witness our latest Firefighting Products @ INTERSEC 2020
Dutco Tennant LLC has been a leading supplier of firefighting products in the Middle East and GCC region for more than four decades and has built relationships and partnerships in over 100 countries. We always strive to enhance & support the efforts of independent fire sprinkler designers & contractors with our comprehensive, integrated solutions for any fire protection challenge. Like every year, this year also we will be showcasing our exemplary range of firefighting solutions at the Intersec 2020. As the leading trade fair for Security, Safety & Fire Protection, Intersec's influence has spread not only across the Middle East, Africa and the Indian subcontinent but has gone well beyond. Over 34,800 visitors (+20%) from 135 countries attend this spectacular event every year.
Let's take a look at the products which will be on display at our store this year.
Flexible Hoses
Flexible Sprinkler Hose with Fittings is to connect directly to Fire Sprinkler is designed to work on a returnable piping system into a small space in a wet system or dry system. It allows users to adjust any detailed dimension freely but is also economical as it reduces the time required for installation and that in fine finishes. Adding to that, these are to be used in accordance with NFPA 13,13D and 13R for limited flexibility applications.
Features
Available in two types-Braided and Unbraided flexible hoses.
Can be supplied in different length 700mm, 1000mm, 1200mm, 1500mm, 1800mm, etc.
It can be installed into a tiny space
Easy Installation
Economical Installation
CPVC Pipes and Fittings
Formulated through chlorinated polyvinyl reaction, CPVC is the resin drastically improving the heat resistance, impact resistance, mechanical strength and pressure resistance over the commercially and widely available PVC. These pipes are ideal for use in automatic fire sprinklers which provide superior hydraulics, ease of joining, increased hanger spacing in comparison to other thermoplastics and ease of assembly.
Features
Excellent corrosion resistance and anti-chemical strength.
Excellent heat and pressure resistance.
High constant temperature characteristics due to the low heat conduction rate.
Convenient workability & excellent economy.
Pressure Reducing Valve
A pressure reducing valve is ideal for automatically reducing a higher inlet pressure to steady lower discharge pressure, regardless of fluctuations in flow or inlet pressure. These valves are based on the 106-PG control valves and are available in a complete range of sizes from 2 in / 50 mm to 8 in / 200 mm. Our Pressure Reducing Valves are known all over the Middle East for their superior performance, reliability and long service life. They are UL Listed.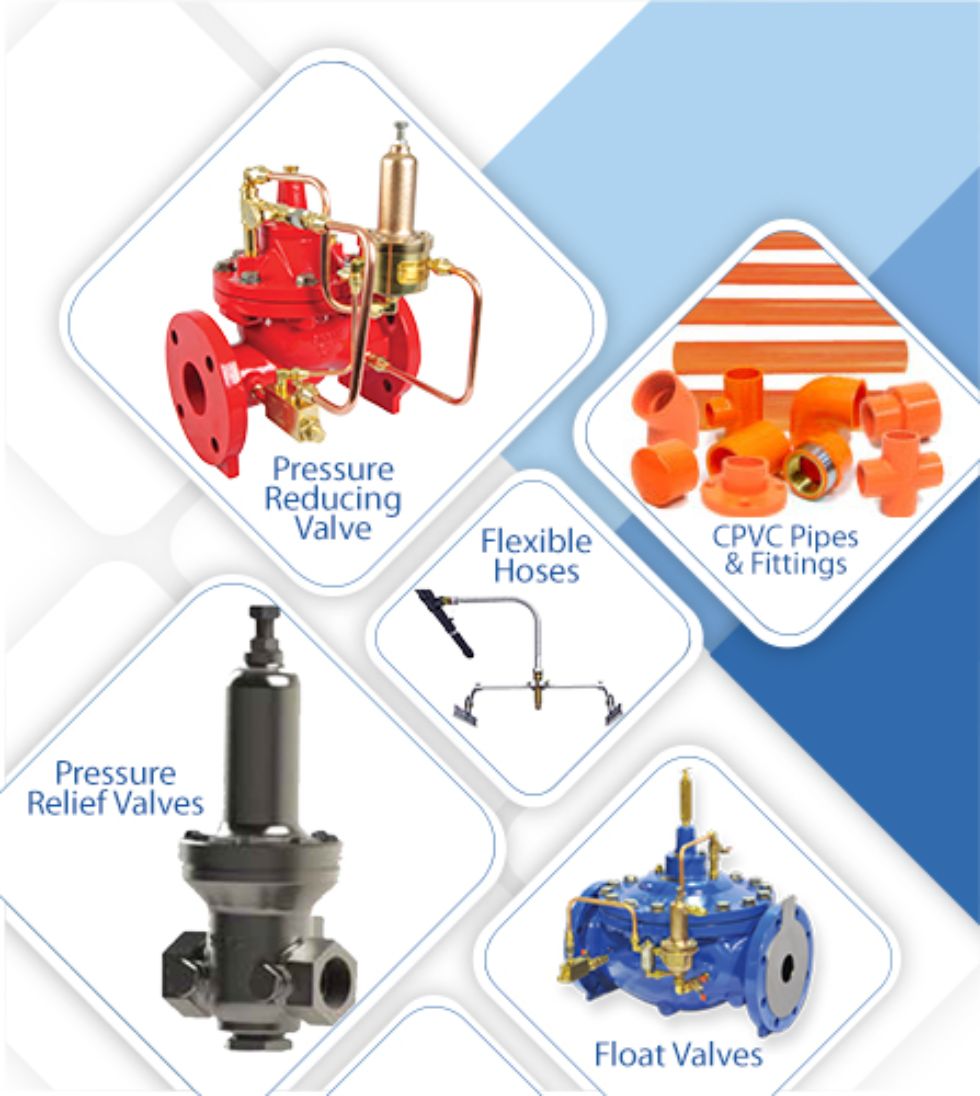 Pressure Relief Valve
A pressure relief valve is a device that protects a fire protection system by automatically relieves the excess pressure to discharge. By an overpressure event, any condition which would cause pressure in a vessel or system to increase beyond the specified design pressure or maximum allowable working pressure is referred. The main goal of a pressure relief valve is the protection of life and property by venting fluid from an overpressurized vessel.
We offer two types of Pressure Reducing Valves, the RPS series which will also automatically modulate to relieve excess pump capacity during the pump start-up and shut down, allowing the pump to operate without causing surges.
The second model 18-FR is a remote sensing, high capacity, spring, and diaphragm operated, normally closed valve.
Float Valves
Flow Limiting Control Valves are ideal for limiting the flow to a pre-determined maximum. Excessive flow is prevented by these valves by limiting flow to a preselected minimum rate, regardless of changing line pressure.
Features
Accurately limits flow to a pre-set maximum
Easily adjustable flow limit
Paddle-style orifice plate included
Optional orifice plate housing
Get a Quote