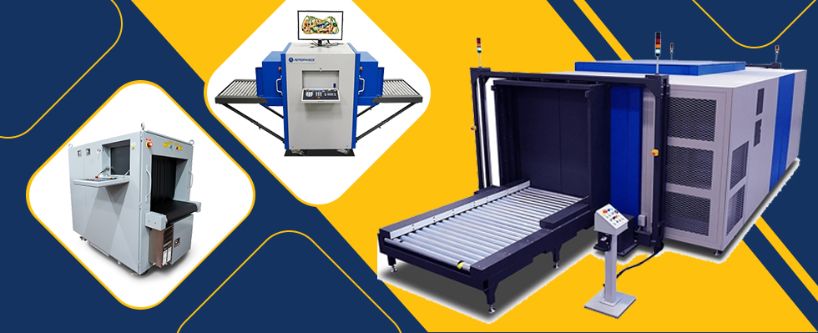 EXCLUSIVE MODELS – ADVANCED X-RAY INSPECTION SYSTEMS
In public places, deploying x-ray baggage scanners can increase the level of security by several notches. Using these devices, the security teams can be able to monitor everyone who is entering a specified area very easily and also look at the things they are bringing with them inside. They can be found in various models and types like handheld detectors, baggage scanners, and walk-through metal detectors which are commonly used in most public places. Effective and superior quality X-ray baggage scanners and cargo inspection systems are our forte. We bring them to you from the house of Astrophysics Inc, the largest manufacturer of X-ray baggage scanners in the world.
For around 20 years, Astrophysics has been reigning as the leaders of development and research in X-ray and can turn the theories of imaging into reliable and robust security systems. Over 30,000 of their exceptional range of solutions have been deployed in more than 150 countries. Being the regional supplying partners of Astrophysics Inc, Dutco Tennant LLC brings to you some of the exclusive range of products manufactured by this leading brand. Here is a look at those –
XIS 6040SE
The XIS 6040SE has been designed to be used immediately and easing the use optimally. The baggage scanners can be made ready to be used within a few minutes which makes them the best choice to be used during festivals, events, meetings, concerts, and other places where flexibility is required. The Astrophysics XIS 6040SE X-Ray Scanner has a tunnel opening of around 60.0 cm x 40.0 cm (23.6" x 15.7") along with a compact design and increased dimensions for placement of a much wider range along with expanded screening capability. It is suitable for both checkpoint screening and also for small parcels.
Features –
Enhanced Imaging™ (EI) Software
Compact footprint
Mobility package for easy relocation
Spill-resistant conveyor belt
High-resolution images with 24-bit color
Enhanced material discrimination
Windows Operating System with Intel® Core™ Processor
Real-time diagnostics
High-contrast image analysis
XIS-7555R
The absolute ruggedized self-contained system from Astrophysics has been tested and designed mainly to be used outdoor and there is nothing like that. The powder-coated, stainless steel frame has a very special formula for anti-corrosion along with bulb-sealed to be entirely water-resistant. This makes the Astrophysics XIS-7555R Scanner suitable to be deployed anywhere. Being transportable, this device is having shock-absorbing pads that can endure rough surfaces. The product has been tried and tested for endurance in the toughest situations and temperatures. It can last and offer accurate screening even during torrential storms or sand storms.
Features –
Ruggedized mobile design
Water-resistant and climate tested for extreme heat and cold
High-resolution images with 24-bit color
Enhanced material discrimination
Windows Operating System with Intel® Core™ Processor
Real-time diagnosis
High-contrast image analysis
Astrophysics MVCT Machine
Meet Astrophysics MVCT Machine is the first 3D CT Cargo System of the world that combines multi-view radiography with high-speed computed tomography. It also allows freight forwarders, airlines, and customs agencies for performing effective and rapid inspections of cargo. This X-ray inspection system is equipped with a robust generator that can deliver twice the power compared to traditional cargo systems. A wide number of viewing angles of a single pallet can be generated by operators with the unique algorithm for reconstructing the views into a single 3D image which helps the operators for examining the cargo from all the angles. This single combination of tomography, radiography, and imaging power makes it very easy to locate all the suspicious items with extreme accuracy.
Features –
360° Multi-view x-ray imaging
360° 3D CT Imaging
2x penetration vs. conventional cargo systems
4x speed vs. conventional cargo system
Ultimate image quality
Get these exclusive models delivered in the Middle East by Dutco Tennant LLC.
Get a Quote