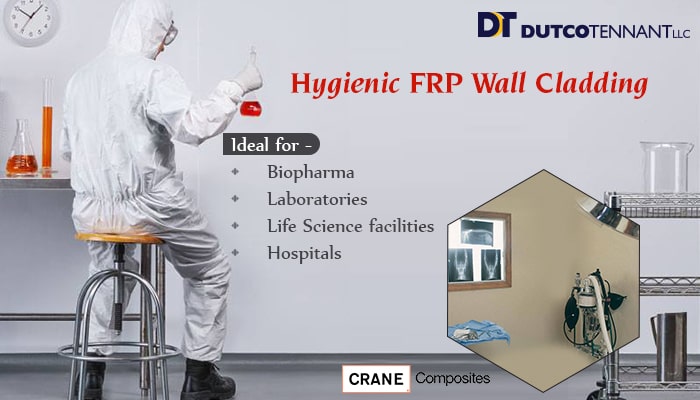 HYGIENIC FRP WALL CLADDING – COMMON USES
With the world being more and more focused on hygiene and cleanliness of the surroundings and the environment, additional focus has been provided on using modern ways. And for that, Hygienic FRP Wall Cladding has emerged as a viable option. But many of you can be in doubt about what exactly are those things and how can it help you out? Another important thing is that in which areas shall you use it? So here we are to help you out with everything.
In any facility, wall and ceilings are the most common places in which bacteria, viruses, and dust can remain and this makes it very much important for providing a protective layer over it. Fibreglass Reinforced Plastic or FRP is a composite material system that comprises a glass fiber reinforcement, plastic resin mix, and other additional additives. When it comes to weight and strength ratio, it has several astounding properties and it is considered as the best choice compared to traditional wall protection layers. They do not shatter and offers high chemical resistance. It allows for higher design flexibility which was not possible previously because of several limitations of traditional building materials. By using adhesive, these sheets can be installed and can be laminated to a wide range of substrates for modular installation or cut into ceiling tiles. They offer the ideal solution where a high hygienic, impact, easy to clean surface is required. FRP is known all over for being strong, lightweight, non-corrosive, and free of maintenance.
Reinforced plastic composites can be witnessed in several areas every day from restaurant to school and are ideally suited for a wide variety of industries.
Restaurants
In several restaurants, you will be able to see fiberglass reinforced paneling and plastic composites, both in the food preparation areas and ceiling panels. It is ideal for using Hygienic FRP Wall Cladding and Ceiling Panels in any high traffic area where food is being handled as they are non-absorbent. In a variety of easy-clean finishes, these panels are available adding to sanitation which meets the government regulations for food-handling areas.
Food Processing Plants
The environment of food processing plants needs to be free of potential contaminants. With the help of fiberglass reinforced plastic for all food processing stations, plant owners can easily decrease the risk of cross-contamination between meats, produce, and other food items.
Hospitals
One of the most essential uses of moisture-resistant composites can definitely be found in hospital rooms around the country. Ceilings, floors, walls, equipment, and even hospital room doors are made of this highly moisture resistant FRP panels. Waiting rooms may also be filled with high gloss finish panels in a variety of patterns for having more aesthetic appealing while a sanitary environment for patient and operation theatres is provided by standard panels.
Schools
Schools are breeding ground for several illness and bacteria. With Hygienic FRP Wall Cladding, the students and teaching staff can be kept safe by maintaining a safe and sanitary environment for playing and learning.
Grocery Stores
Just like restaurants, grocery stores are also high-traffic areas which are highly potential for transmitting bacteria at a higher than usual rate. In areas where food is being handled, if grocery store owners install sanitary panels, then the transition of germs from one surface to the next can be decreased. As these panels are easy to clean, it makes them a great choice for food preparation areas.
Apart from these, there are also several other areas like car washes and convenience stores where these panels can be extremely useful.
We at Dutco Tennant LLC supply the exceptional Hygienic FRP Wall Cladding range from CRANE Composites to the Middle East. They are the world's leading manufacturer of premium Hygienic Wall Cladding and Ceiling tiles made from FRP. Crane Composites FRP wall panels combine expertise in composite material science, process, and technology with a deep understanding of End-user needs to deliver innovative products that outperform traditional building material such as Ceramic, Paint, PVC wall cladding & Acrylic panels, metals and woods.
Get in touch
with us to get the finest Hygienic FRP Wall Cladding range : +9714-2152799
Get a Quote