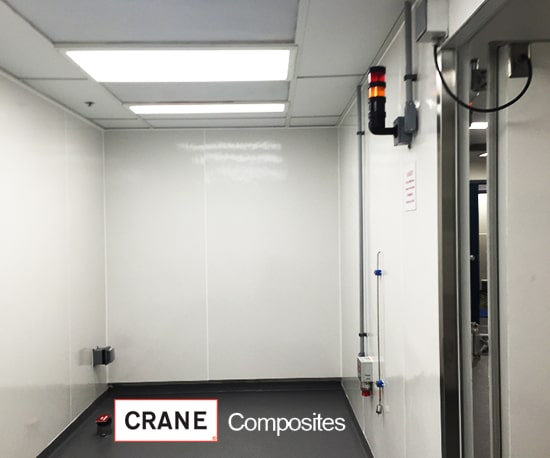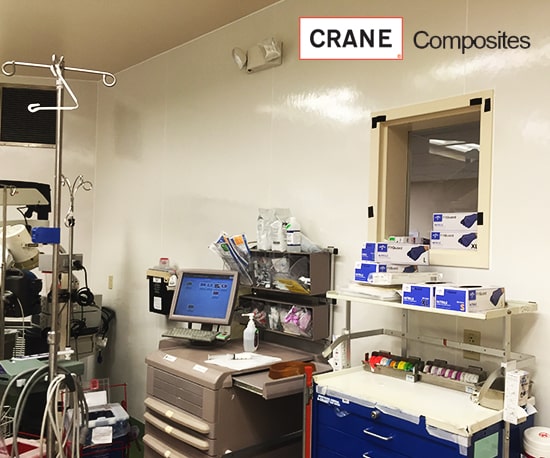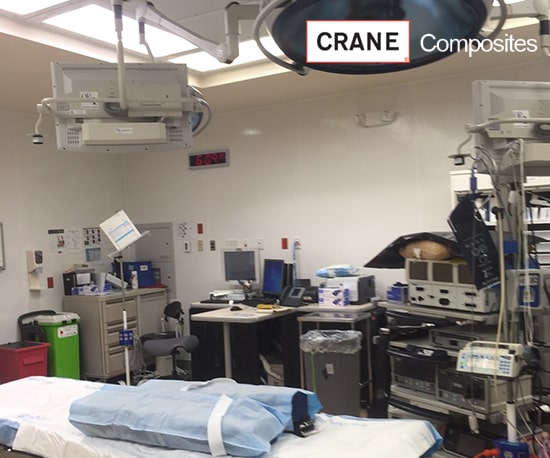 Creating a protective envelope for critical areas demands high-performance finishes. That's where the Cleanroom System comes in. Made of fiberglass reinforced plastic (FRP), Cleanroom System is extremely moisture-resistant and non-porous and offers the ideal hygienic wall covering for Cleanroom applications.
The Surfaseal® film finish, found only on Cleanroom System, provides a barrier that's highly resistant to impact and scratching. Because of its unique process, the Surfaseal® finish will not trap soil/dirt and provides an Anti-bacterial surface on the panel. The robust panels hold up under frequent maintenance cycles, even with caustic cleaning chemicals such as Spor-Klenz, Process Vesphene and bleach. Cleanroom System provides tested and proven performance at an affordable price point with a 10-year limited warranty.
Cleanroom suitable material testing quantifies the value that Surfaseal® adds to the FRP product (Hygienic ISO-846). The cleanroom FRP panels are completed with the use of biological and chemically tested adhesive and seam sealant for wall panel applications.
Replacing traditional FRP moldings, the seam sealant creates a monolithic surface, eliminating the potential for penetrating moisture, bacteria, mold, viruses and other agents causing healthcare-associated infections. The end result is a total wall covering system you can trust to protect your clean environments.
You can protect your facility in a clean environment with the PVC Wall cladding from Crane. They can offer exceptional durability and hygiene for the applications of cleanrooms like biopharma, life science facilities and laboratories. High-performance finishes are needed for creating a protective envelope for the important areas. The Antibacterial Wall cladding is the perfect solution for this. They are made out of high-class fiberglass reinforced plastic (FRP) and are highly resistant to moisture and non-porous. It has a Surfaseal film finish which can offer a barrier that is extremely resistant to scratches and impacts. Due to the unique process, the finish will not be trapping bacteria or soil on the panel. The robust panels will hold up under frequent maintenance cycles even with caustic cleaning chemicals like Spor-Klenz, bleach and Process Vesphene. The FRP Wall Panel is known to offer proven performance at affordable pricing with around 10 years of warranty.
Features –
Can be installed easily

With minimal downtime, the panels can be installed over existing materials

Free from Mold and Mildew

The FRP panels can resist humidity and there will be no growth of mold and mildew

Resistant to Impact

The panels are durable and resistant to dents and scratches against rolling carts

Easy to Maintain

FRP wipes can be cleaned easily and do not need painting

Easy to Clean

FRP will not promote microbial growth that supports the usage in damp and wet growing environments

Fire Rated Options Available

Can meet with the requirements of major model building codes
Features
Glasbord® with Surfaseal® Smooth FM Global – FSFM - Anti-microbial finish ensures that the surface will not trap soil or bacteria. Glasbord® panels meet USDA/FSIS requirements
Polyurethane Seam Sealant: it is an equal-mix, two-component system used to bond and seal a variety of plastics and metals. This sealant is bright white and replaces the conventional division bar for joining Glasbord® wall panels. The seam produced from this sealant forms an impervious seal against moisture penetration and bacteria build-up PARTICLE EMISSION (ISO 14644-1).
This sealant system also offers superior durability and sealing integrity over alternative sealing compounds such as the silicone sealant. Once fully cured, the Polyurethane Seam Sealant produces a hard, strong and smooth joint between panels. It is not only water proof, but also resistant against caustic cleaning agents, such as bleach, Spor-Klenz and Process Vesphene.
Application Areas
Bio-Pharmaceutical Manufacturing
Research Laboratories
Vivarium
Sterile Processing Facilities
Operating Rooms
Medical facilities
Chemical Processing Plants
Hygienic rooms
Products
Clean room products:
Glasbord Wall Panels, Smooth,  FM Global – Model: FSFM
Polyurethane Seam Sealant
Fast Grab Crane Composites Adhesive
Advanced Polymer Crane Composites Adhesive
Certifications
UL Greenguard Gold certificate
USDA / FSIS certifications – Food Safety and Inspection Services.