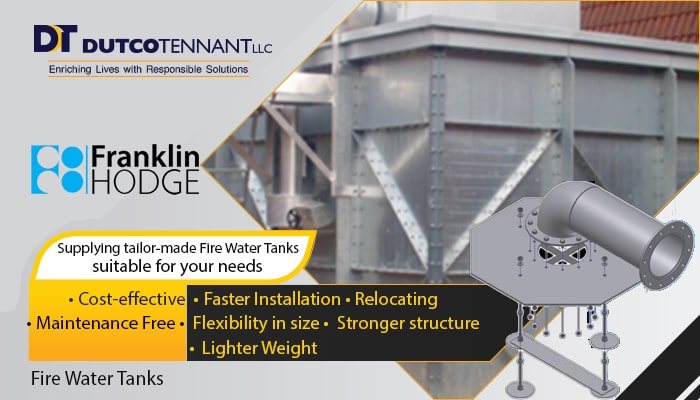 IMPORTANCE OF FIRE WATER TANKS
For fire protection in industrial and commercial locations, water storage tanks are important. Fire mishaps can happen at any time for several reasons. It is important for safeguarding human life and our material assets from the destructive effects of fires. In case of a fire, which proves to be extremely useful is the easily accessible water. Custom water tanks can be installed in accordance with the size of the building and fire safety requirements.
Several advantages of Water Storage Tanks
Fire-Water Tanks come with several advantages for industrial and individual users. So what are those? Let's have a look.
Easy integration
Water tanks for firefighting can be easily deployed and integrated with the current fire protection system. Which makes it no need for installing separate systems. Ultimately is recurs several benefits -
Reduces the total cost
The chances of some components or processes not being compatible with one another are greatly reduced, with a completely integrated system. This takes away the chances of last-minute surprises. The seamless integration makes the system more reliable.
Compliance with Fire Regulations
Individuals and companies are required by the law to take care of certain provisions for fire safety. AN important part of this lies with stocking adequate water for emergency cases.
The building owners and residents are helped by the utilization of these tanks with official National Fire Protection Association (NFPA) standards.
Various state, federal, and local fire codes that are applicable must be taken into consideration by businesses that are operating in rural or urban areas.
Most companies are required to have access to water at all times depending on the nature of the business and the building size. This can prove out to be difficult in cases where there is a shortage or damage in the pipeline. In cases like this, it becomes handy to have access to a water storage tank.
Non-compliance with relevant codes could result in penalties or other severe consequences.
Fire water tanks offer immediate assistance in the face of a disaster. It helps safeguard properties and lives.
Installation:
Firefighters can get to refill their tankers quickly and get back to the job of putting out fires that pose a huge risk to people and property with the installation of water tanks around the house and shed, mainly in times of heat and drought. Another key importance is getting installed a specialized fitting into the tank which allows the fire trucks' filling hoses to connect directly to the tank which enables fast filling of the tanker. The tanks can also be fitted with a vortex inhibitor which will help maximize the flow of water out of the tank. It is again important to ensure easy access to the tanks, once the water tank is installed. The area which is next to the tank shall be able to accommodate two appliances or trucks with suction hose connections at a time. It is important for keeping the area around the tank clear of any foliage or vegetation which can ignite and block access to the tank during a fire. It is also important to carry out regular clearance and maintenance of the areas around the tank must be undertaken. The refilling process gets speeded up by this clearance and access which makes the site safer for the firefighters.
If you are looking for Aluminium Fire Water Tanks for the Middle East and GCC region, then you can have the most advanced range from Dutco Tennant LLC. We along with our partners, Franklin Hodge can deliver you with the best in class fire water tanks of the world. Our range of tanks has been relied upon by major industrial and commercial companies in the Middle East and GCC region. We provide specialized storage of wastewater, potable water supply, demineralized water, condensate water, deionized water, dust suppression, and fire-fighting water storage solutions. Our commercial and industrial products are all manufactured using the highest quality materials available.
Get a Quote