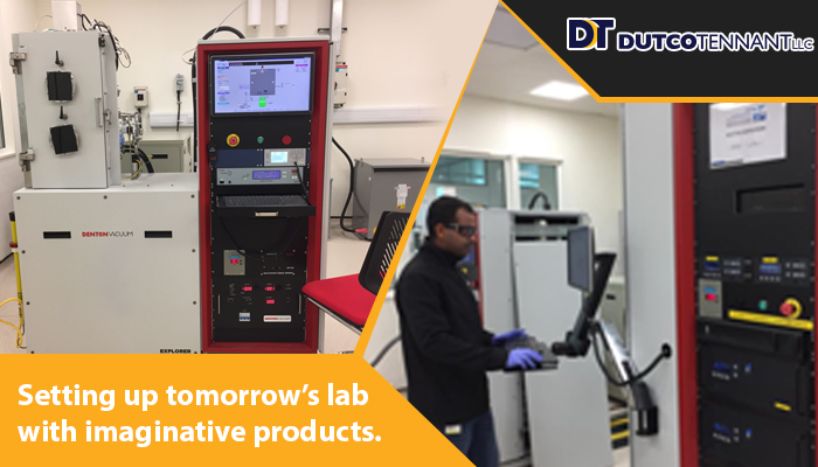 Creating World Class Research Labs Being Quality Laboratory Equipment Suppliers
Dutco Tennant LLC is proudly aiding in setting up world-class research labs in the Middle East and GCC market. In a new deal, Dutco Tennant LLC laboratory equipment suppliers for making Research Lab in The Middle East and GCC Market. Therefore, Dutco Tennant LLC is playing a leading role in setting up labs for Science & Technology - Analytical industry in the Middle East market.
Denton Vacuum-US manufactured the product who is a leading Thin Film Coating Technology product manufacturer. The company is an important manufacturer who makes optoelectronic thin film devices for Research & Development markets working in the field of Ion deposition, E-beam, Magnetron Sputtering & Thermal Evaporation.
E-beam evaporation is a scientific technique which is used to deposit a wide variety of materials. This technology is commonly used for such optical thin film applications such as laser optics, solar panels, eyeglasses, and architectural glass. e-beam evaporation provides the optical, electrical, and mechanical qualities required. E-beam evaporation offers high material consumption competence compared to other PVD processes.
Dutco Tennant LLC based in Dubai, U.A.E. is a leading and famous laboratory equipment suppliers in the Middle East and GCC region. We provide quality instruments, products, and services. We make an effort to meet the customer's requirements & satisfy it to the highest degree by providing right and good solutions. We have developed a clear understanding of this segment, and at all times provide the best product for the clients. Though the company is based in Dubai, U.A.E., it has its presence in other parts of The Middle East as well. The main focus of the company is to provide quality analytical instruments, laboratory products, and attempt to meet & satisfy customers as far as possible.
Dutco Tennant LLC is a leading analytical and lab equipment supplier in the Middle East and Gulf region. We serve countries such as Saudi Arabia, Qatar, Oman, Kuwait and others in this area. You can contact us for all such requirements in these countries and nearby areas.
Get a Quote