Agom explains why bridge expansion joints and bearing are important at the BIG 5
BIG 5, the largest and most important trade fair in the region commits itself to pursue an advanced world with the latest technologies for the construction sector. It has been growing every year, attracting more sponsors, partners, experts, and government organizations. It provides a forum for all attendees to learn more about the latest innovations, technologies, and advances in research, regulatory information and other developments in the construction sector. In this event, Dutco Tennant LLC wants to introduce their recent product additions to their inventory for the Civil Infrastructure sector from Agom.
Agom International Srl is a well recognized engineering and manufacturing company that operates globally, and is dedicated to the design and production of products for the infrastructure, construction, and industrial markets. It was founded in 1963 in Italy as a manufacturer of metal-rubber products and elastomeric bridge bearings and has developed and expanded its business to become one of the most important companies specializing in the design and manufacture not only of elastomeric products but also of steel devices expressly designed for bridges.
Now you can explore their highly notable range of Bridge Bearing and Bridge Expansion Joints at our stall in the BIG 5.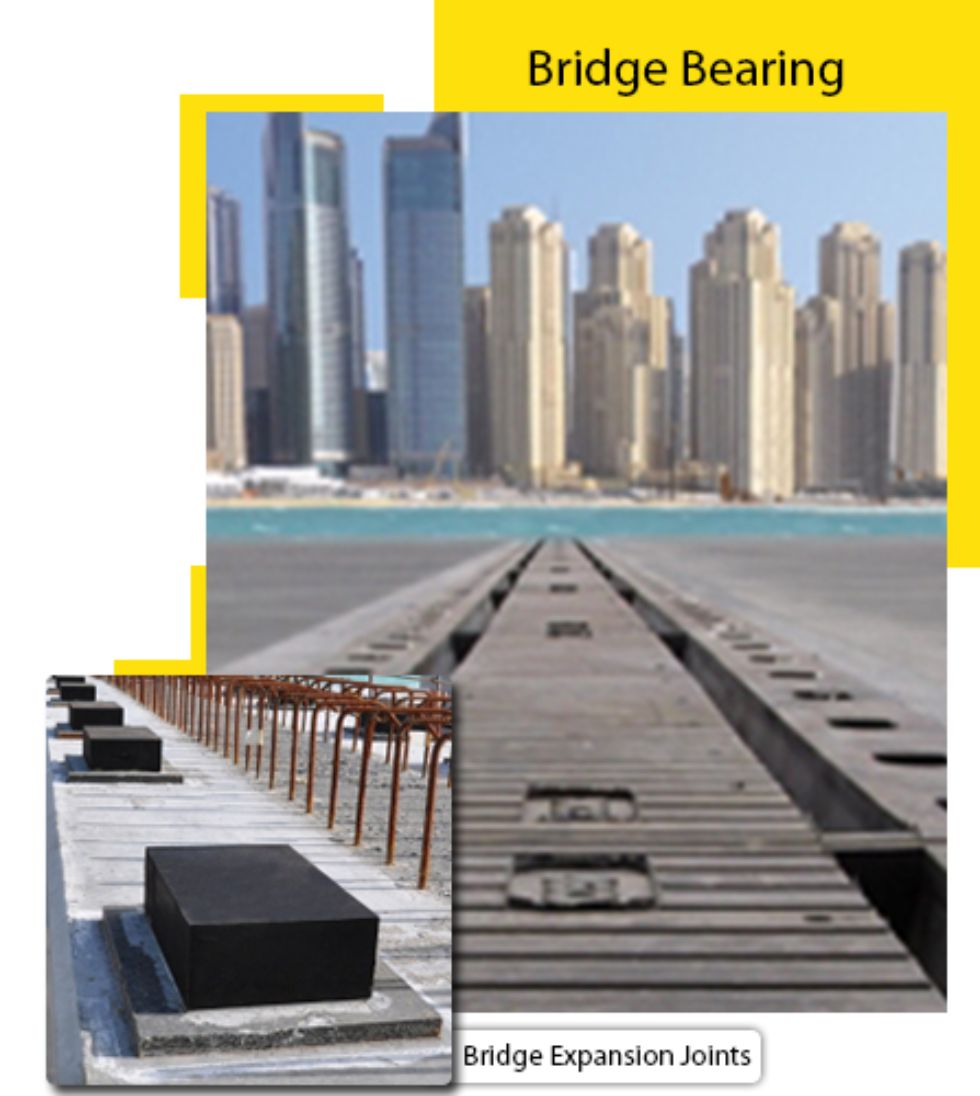 Bridge Bearing
Design and manufacturing of bridge bearings are done to transmit vertical and horizontal loads from the superstructure to the substructure, while allowing specific movements and rotations of the superstructure caused by wind or seismic effects, temperature variations, deck deflections, elastic shortening due to creep, shrinkage or post-tensioning, etc. Elastomeric bearings from Agom called E-Link are built to withstand loads and simultaneous deformation in any direction while allowing for minor rotations in any of the bearing's axes. The E-Link bearings can be made out of rubber or can be reinforced with special sheet steel to increase capacity and transversal strength. Bearings can also be produced with special anchor plates or with sliding surfaces for improving the structure's displacement capacity.
Bridge expansion joints
Agom bridge expansion joints are structural components that are designed to provide smooth passage over the gap between adjacent sides of a deck joint also permitting relative translation and/or rotation of the two sides of a bridge deck. The elastomeric reinforced joints for roads are designed to enable service displacements up to 330 mm with respect to the bridge decks they are fastened to. They are entirely waterproof and are secured to be a structure with suitable anchor bolts.
Get a Quote