Key products from Dutco Tennant LLC at BIG 5
The largest trade fair for the construction sector in the Middle East, The BIG 5, aims at displaying the latest solutions and products which are dedicated to the betterment of the construction sector. The 2019's edition of the BIG 5 is the platform for its visitor to review state-of-the-art solutions for Building Envelope & Special Construction, Building Interiors & Finishes, Construction Technologies & Building Automation, Construction Tools & Building Materials, MEP Services, and Offsite & Modular Construction. This trade fair is the pathway for companies to make deals, build partnerships, review the latest technologies in these sectors, learning about current and future projects and market needs, and explore new project ventures and opportunities in the Middle East region. Dutco Tennant LLC being a trusted and prominent supplier of various industrial and engineering products and solutions in the Middle East and GCC region has been always trying to bring out solutions for the betterment of the Construction Specialities sectors. At this spectacular event, we are looking forward to introducing our next line of exemplary products over the four days of the event. So here are the details of all our prime products for the Industrial and Services department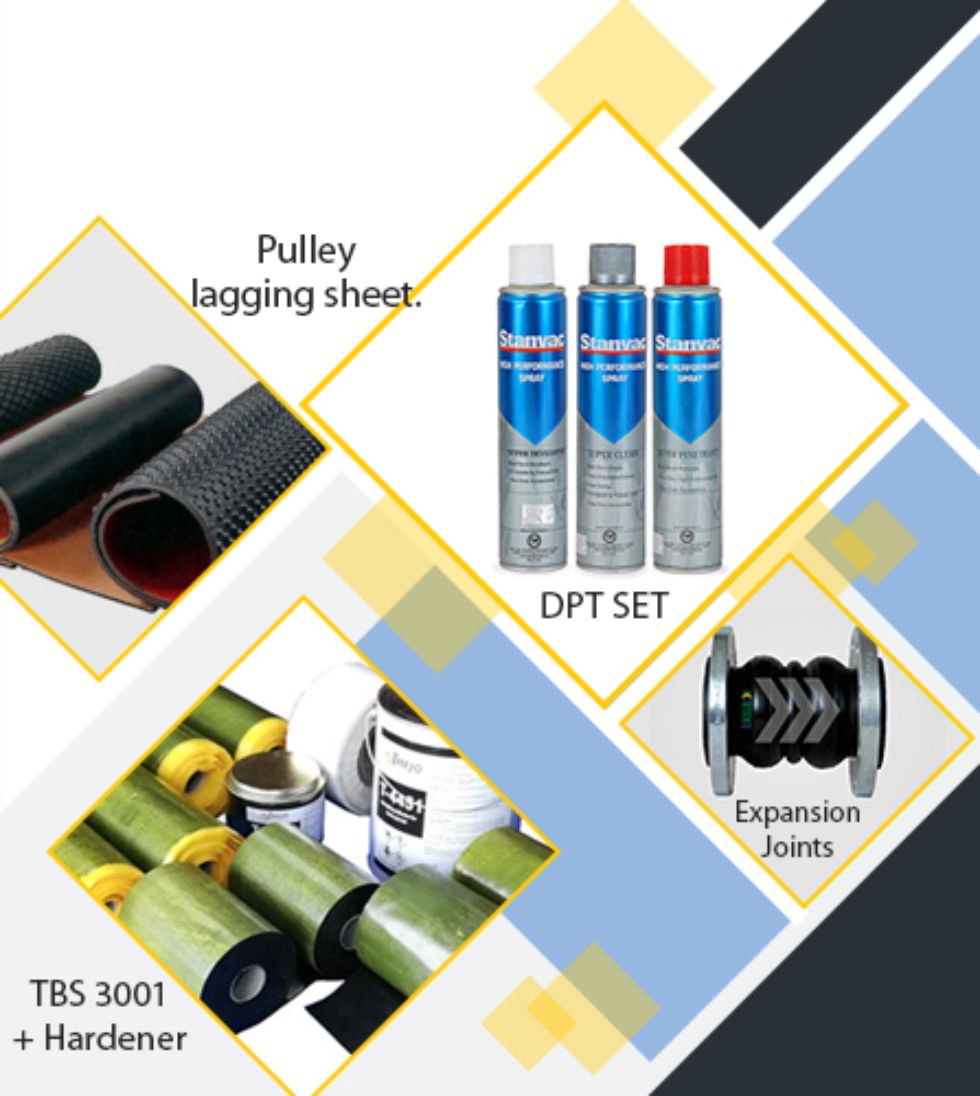 Joining welding electrodes

Our supplied welding electrodes have frostrac coating plus high-alloy core which generates highly ionized arc for "spray type" transfer of weld metal. It is suitable for dies, tools, springs, cushion layer, Joining dissimilar & unknown steel & stainless steel combinations
Features

Superior "ferrite balance "chemistry engineered to give superior crack-free weld deposits
Contact type & Self lifting slag electrode design.
Resistance to surface contaminants & excellent impact resistance.
Tough, high crack resistance combined with smooth arc transfer.

Hardfacing welding electrodes

A unique alloy with a high volume fraction of complex carbides in a martensitic matrix, giving the best performance against griding abrasion combined with erosion and high heat. Suitable for application on Sintered carbide table rolls, table liners buttoning, Clinker crusher hammers, Sinter crusher hammers, sinter & clinker hubs, Sinter and clinker knife bars, ID fans handling high-temperature flue gases and others.
Features 

Ultimate single layer hardness of around 70 HRc.
The highest Volume fraction of complex carbides with the optimised matrix.
High-temperature hardness till 800°C.
High metal recovery up to 170%.

Super Galva bright

This is a quick-drying, light-duty, sacrificial coating spray that protects ferrous metals from oxidizing. It provides a barrier as a well higher degree of cathodic protection to the base metal against the environment and prevents the formation or spreading of rust and corrosion. It also provides the appearance of a high shine, hot-dip galvanized, bright metallic finish.
Advantages 

High Shine Finish
Sacrificial Zinc Coating
Quick Drying

DPT SET

This spray is widely used for evaluation of micro surface defects & flaws in weld deposits, wrought & cast products of both ferrous & non-ferrous metals, powder metallurgy parts, ceramics, plastics & glass objects. It is perfect for examining stress corrosion and fatigue cracks - Cranes, Bridges, Vessels, Piping, Railways. So as to prevent breakdowns, injuries or loss of life.

We are involved in offering a wide range of Conveyor Care and Rubber Components that includes scrappers, pads, tracking system, skirt sealing, splicing, and slurry handling tools, repairs kits, dust suppression, and vulcanizing press. Our range of Conveyor Care Products is widely appreciated by our clients for their high quality and efficient performance. These products will be live at display at the venue

Pre-cured pulley lagging sheeting for conveyor drum lagging comes in a wide range and verity. Different patterns and configurations are available to suit various applications from dry to wet conditions, for light, medium, heavy and extra heavy-duty applications. Come and explore life and get to know more in detail from our expert engineers.
A proven and flexible solution to accommodate many types of movements and requirements of industrial plant and equipment. We will be displaying a complete range of rubber expansion joints. These joints will be having various sizes and can be also made as per your requirement. The entire range is available in different types like a single arch or multiple arches and is fabricated of high tensile reinforced rubber. The range of rubber comprises neoprene, EPDM, butyl, Viton, etc. READ MORE...
Get a Quote