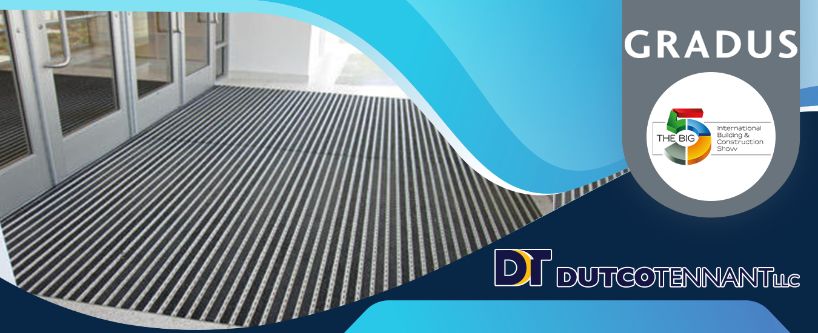 LATEST COLLECTION OF ENTRANCE MAT AND PVC WALL PROTECTION HERE LIVE AT BIG 5
The BIG 5 which is the largest trade fair for the construction sector is the annual meeting place for building and civil engineering professionals both international and local. This event is an exceptional platform for companies and organizations to promote their products, services, and innovative technologies as well as meet decision-makers, investors, buyers from around the world. Dutco Tennant LLC will be displaying their latest products for the Construction Specialities division in this event from the house of Gradus. Gradus was founded in 1966 and still then has gradually evolved from a flooring accessories business, which still remains at the heart of their activities, into a fully fledged contract interior solutions provider. With a team of more than 300 employees serving both the UK and International markets, Gradus offers solutions for carpets, barrier matting, wall protection and LED lighting systems, in addition to a comprehensive range of star edging and floor trim profiles. Gradus recognizes the importance of sustainable development within our business and is dedicated to controlling and minimizing the effects we have on the environment.   At the BIG 5 Dubai, visitors will be demonstrated by the experts of Gradus about the Entrance Mat and PVC Wall Protection.
Entrance Mat
Gradus primary barrier matting offers a range of products that are ideal for use at both internal and external entrances and access points to reduce the amount of dirt and moisture transferred into a building. External primary matting can help to remove excess dirt prior to entering a building using a scraper wiper and increases the effectiveness of internal primary and secondary matting. Internal primary matting uses a combination of scrapper and textile wipers to remove and retain dirt and moisture to adjacent floor coverings.
 PVC Wall Protection System
Gradus has launched an exciting new collection of new PVC-u and aluminum wall protection profiles forming one of the most expensive interior protection packages on the market. The profile includes handrails, combination rails and dual-rail, wall guards (bumper bars, crash rails), corner guards and bed protectors in addition to a new range of PVC-u protective sheet options. Products have a modular design and have been developed to absorb and deflect impact, providing durable, functional solutions. PVC-u covers are through-colored and textured to conceal the effects of impact damage and abrasion and are available in up to 34 colors, offering aesthetic solutions for most interior design requirements. READ MORE...
Get a Quote