Dutco's offerings for infrastructural projects
Being the largest trade fair for the construction sector, The BIG 5 is the annual meeting place for building and civil engineering professionals both local and international. It is an excellent platform for companies and organizations to promote their products, services, and innovative technologies as well as meet decision-makers, investors, buyers from around the world. Dutco Tennant LLC will be displaying their latest products for the Civil Infrastructure division in this event from the house of RainSmart Pty Ltd.
Rainsmart Solutions Pty Ltd is a unique company which provides Engineered Environmental Solutions in the field of Geo-Synthetic, Stormwater Management, and Green roofs. It is a young dynamic company with a vast combined team experience of well over 50 years. The team consists of professionals from the field of engineering and environment who provide a creative and holistic approach to Urban Development in an Environmentally Sustainable Manner. The company offers a comprehensive range of engineered eco-friendly products and technical skills to ensure optimum performance of each of the products.
At The BIG 5, visitors of our stall can check out a bunch of their latest and trending products.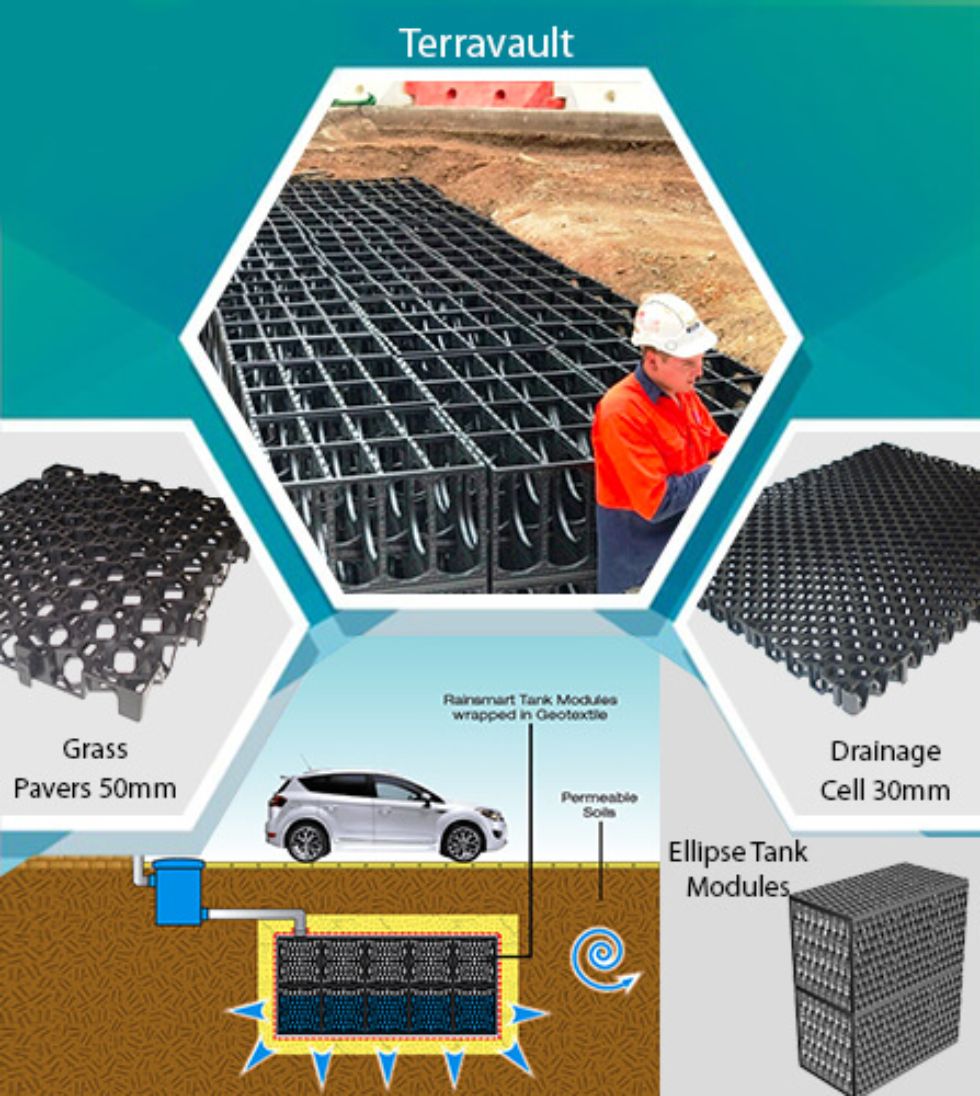 Terravault
Terravault modular tanks are modular units which assemble to form a skeletal matrix that supports relevant pavement loads while providing large volumes of un-compacted soil within the structure for free root growth. A maximum growth zone for tree roots is provided by the open skeletal matrix. The Internal Void volume in excess of 95% is available for un-compacted soil and root growth.
Drainage Cell 30mm
The Nero Drainage Cell 30mm, being made from recycled Polypropylene is inert to soil-borne chemicals and bacteria. These shallow and effective drainage profiles help landscapers to make use of mature plants on roof garden which requires soil depth and water retention properties.
Benefits:
Very high compressive load carrying capacity of up to 140 tons/m2.
Very high lateral flow capacity.
Maintains actual void size for effective drainage after backfill& compaction.
Fit-in system easy to cut and comes in pre-clipped panels.
Low weight.
Reduces hydrostatic forces upon sub-grade walls.
Grass Pavers 50mm 
Nero Pave from Rainsmart is a lightweight, high strength interlocking plastic cell structure designed for the creation of Permeable Grassed/Gravel areas subject to pedestrian and vehicular traffic. Heavy load bearing support and true containment of soil mix/gravel is provided by cell structure to create a permeable surface with unlimited traffic volume and/or duration time for parking without traditional problems associated with permeable paving.
Benefits:
Strongest Product in the market.
Very high compressive load carrying capacity of up to 235 tons/m2 unfilled in point load and UDL.
Cell Structure allows for 3d vertical & horizontal root growth.
Maintains actual void size for effective drainage & root growth after backfill& compaction.
Ellipse Tank Modules
Rainsmart Elipse Tank Modules are suitable for any subsurface infiltration, retention or detention Stormwater applications. The tank modules being manufactured using recycled materials, are lightweight, engineered design, structural components developed through research & development. It is ideally used for the construction of underground infiltration, reuse, detention tanks, grass swale, subsurface interception channels, septic leach drains and lightweight void filters for roof gardens and planter boxes application.
Benefits:
Onsite Stormwater Management
Environmentally friendly made from selected Recycled Polypropylene
Recharges Groundwater Table through the principle of infiltration.
Mitigation of downstream flooding
Soakway Infiltration Tank
Infiltration Detention Tanks is the most preferred and ideal method of stormwater management, when downstream discharge facilities are not present, or post-development runoff volume is limited. Being wrapped in needle punched non-woven geotextile and buried in porous permeable soil base, this product helps to recharge groundwater aquifers and provide moisture for the surrounding vegetation.
Get a Quote