LEARN ABOUT THE NEWEST TECHNOLOGIES FOR WATER METERING BY SENSUS PRESENTED EXCLUSIVELY AT THE BIG 5
The BIG 5 is the largest construction trade fair of Dubai which is held annually and connects international suppliers of construction products and services with buyers from the MENA region.  Over the four days, it turns into a global hub for the construction industry catering, to the needs of all construction projects from inception to completion. Dutco Tennant LLC looks forward to exploring new business ventures with Sensus who will introduce their state of the art water metering solutions.
The Sensus brand is roofed under Xylem. The building blocks of Xylem are their strong product brands that continuously drive their business forward in moving, testing, analyzing and treating water. With their signature citizenship program, Xylem Watermark, they bring clean water, sanitation, and hygiene education to schools and communities in emerging markets, and respond with water solutions when disaster strikes around the globe. They are building on the strength of their history to deliver a higher level of customer service, innovation and value for the future with greater strategic focus than ever, a strong and experienced leadership team, a high-performance company culture and a clear plan for short-and long-term growth globally.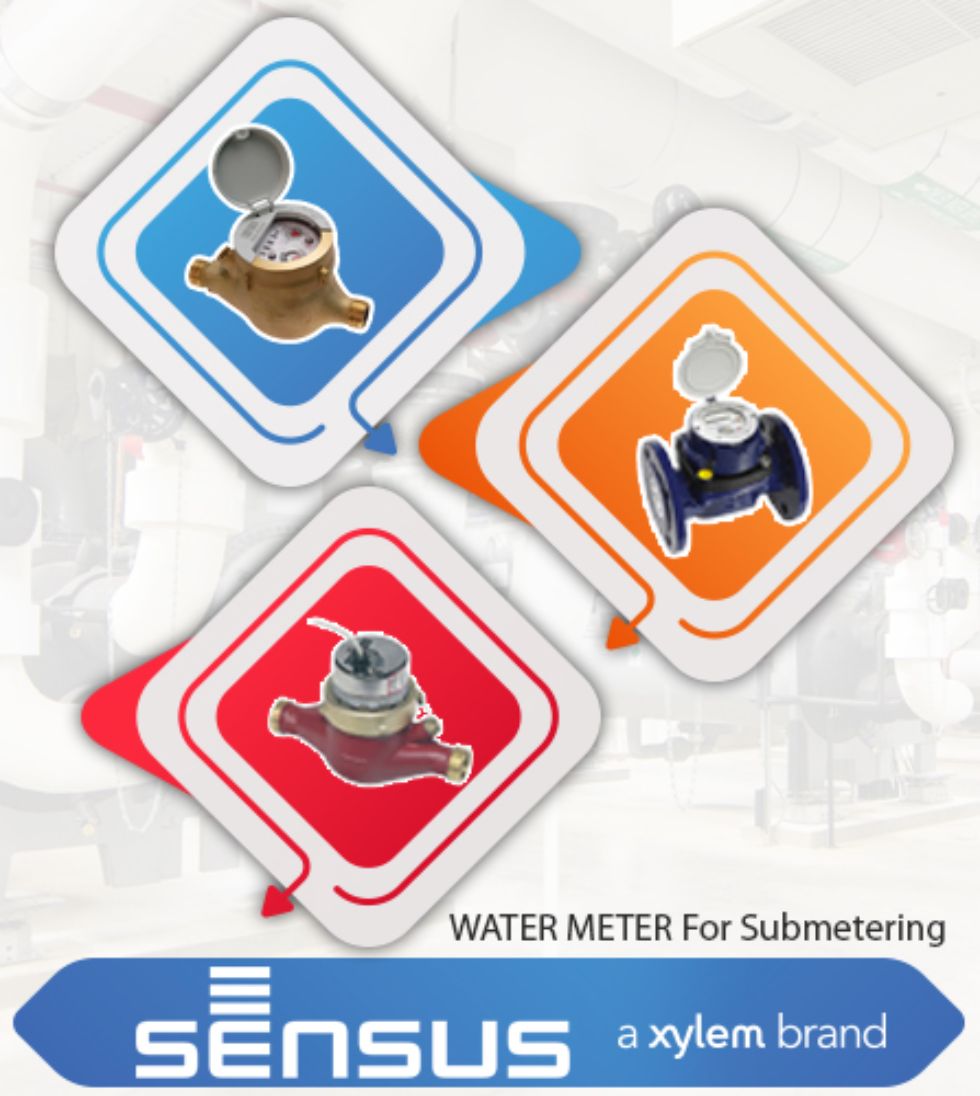 Our stall visitors will be able to witness the modern range of Water Meters from Sensus.
420PC Water Meter
The 420PC is a semi-dry (or protected) dial multijet water meter that can be equipped with HRI systems. It provides a pulse weight from 1ltr. Housed in a case filled with lubricant to protect it from the impurities in the network, the dial is not affected by fogging and can be read perfectly in any condition. 420PC can be depended on reliability and resistance to difficult network conditions and for its quiet operation.
Benefits 
Offers great resistance to corrosion, water hammer, pressure and heat
Is protected against tampering
Provides excellent legibility on all networks
MeiStream
MeiStream is an industrial meter for measurement for billing of cold potable water up to 50C, measurement of high flow rates, measurement of low flow and leakage control.
Benefits 
High overload capability
No straight inlet length necessary (U0D0 acc. to OIML R49 and EN 14154)
Installs in horizontal and vertical positions
Can be submerged; protection class IP68
Materials are temperature resistant up to 70 °C
Use of optical pulsers type OD is still possible
AN 130 Flow Sensor
130 Flow Sensor is a multi-jet, dry-dial, vane-impeller hot water meter that can be installed in central heating and cooling systems and remote warning systems. With the aid of its built-in pulse sender, it is approved for heating meters according to the European measuring instruments directive.
Benefits 
Ideally applicable for 6/12 °C chilling systems due to the high-temperature range of the flow sensor from 5 to 130 °C
Can be used with water-glycol mixtures due to mechanical measuring principle
Get a Quote