SINGER IS BRINGING A WIDE RANGE OF NEWLY INTRODUCED VALVES FOR THE BIG 5
Since 1979, The Big 5 has acquired the title of the largest and most influential construction show in the Middle East. It has launched hundreds of thousands of products, facilitated partnerships, advanced knowledge and industry best practices, while serving as the gateway for international companies to access the Middle East market. Dutco Tennant LLC wants to explore new business opportunities in the region and wants to display for all the visitors its latest product acquisitions from Singer.
Singer has been designing and manufacturing automatic control valves for the global water industry for many years and today their valves have been installed on virtually every continent around the world. Whenever concerns like water loss management in Southeast Asia, water conservation concerns in Saudi Arabia or urban distribution demands in the United States immerge, Singer provides water management solutions to governments, cities, companies, and contractors around the world. With their team of innovative electronic, instrumentation and control valve specialists work relentlessly in their research and design to find out the desired solution for every problem.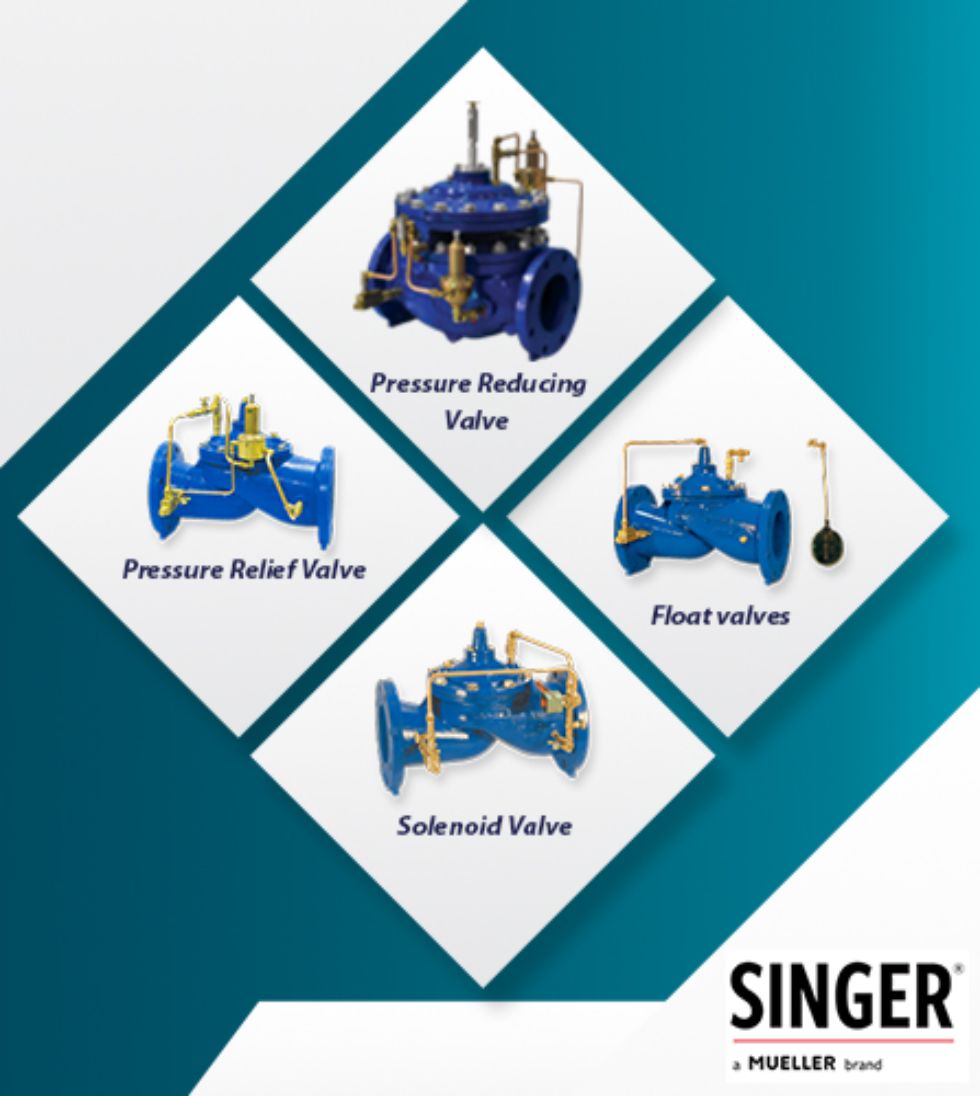 Dutco Tennant LLC and Singer will introduce the visitors with an exemplary range of valves at BIG 5.
 Pressure Reducing Valve 
Pressure Reducing Valves are the most practical components to maintain secondary, lower pressure in a hydraulic system. Pressure-reducing valves are normally open, 2-way valves that close when subjected to sufficient downstream pressure.  When they face extreme pressure the pressure reducing valves maintain a uniform downstream pressure.
Float Valves 
The float valves from Singer are ideal for balancing the inflow and outflow demand into the reservoir and maintaining the level at the designated maximum.
Features
Maintains a relatively constant level
Automatic compensation for level draw-down
Standard integral damping reduces hunting
Drip-tight at high-level shut-off
Low supply pressure options
Solenoid Valve 
Singer solenoid pilot valve provides an on-off position operation. The solenoid either admits inlet pressure into the main valve operating chamber or releases pressure from the operating chamber.
Features
Positive, drip-tight shut-off
Simple, on-off operation
Globe or angle style body
Pressure Relief Valve 
Singer's Pressure Relief Valves senses the upstream pressure through a connection to the valve inlet which remains closed until the inlet pressure exceeds the pilot setting. The valve opens rapidly to relieve damaging over pressure and closes smoothly at an adjustable speed when the pressure returns below the set-point.
Features:-
Limits system pressure by relieving the excess flow
Quick opening relief
Easily adjustable pressure setting
Get a Quote