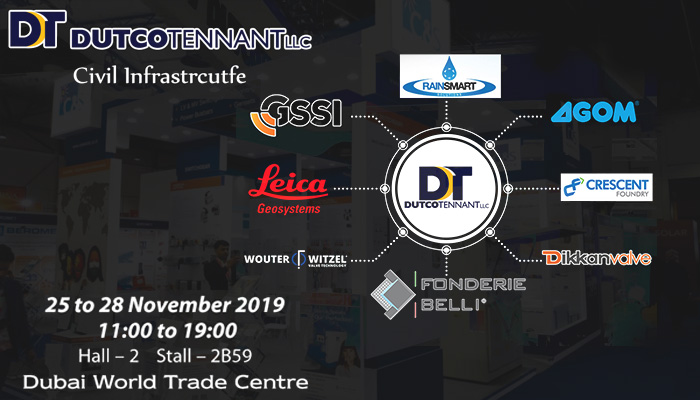 Dutco's plans for the BIG 5 Dubai
Are you heading towards The BIG 5 Dubai? Then you should definitely take a minute to go through this blog to know in brief what to expect at our Civil Infrastructure Stall.
Serving as a networking platform for construction product suppliers and buyers, The BIG 5 is acclaimed as the biggest construction exhibition in the Middle East. This event has gone from strength to strength, to evolve into the largest, most influential and renowned portfolio of construction industry events spanning the Middle East, India, and Southeast Asia. It is the most important exhibition in the region to meet existing as well as new customers and increase the presence in the Gulf region.
Being a trusted name as a supplier of high end industrial and engineering products and solutions in the Middle East and GCC region, Dutco Tennant LLC feels responsible for always lookout for the latest trends and technologies. The company is always growing to satisfy its wide list of clientele and their demands. Like every year, this year also we have planned a cycle of events to display our latest product additions with aid with our world-class suppliers. So let's take you through a sneak peek.
With the rising demands of smart drainage solutions and tanks, we look forward to introducing you with a vibrant range of Drainage Cell, Grass Pavers, Ellipse Tank Modules and Soakway Infiltration Tanks from RainSmart Pty Ltd. Next, with the ever-increasing bridge constructions and bridge collapses, we have acquired the newest range of Bridge Bearings from Agom which we will look forward to displaying and demonstrate at our stall. In addition to that, we have a modern range of Manhole Covers from Crescent Foundry and Fonderie Belli.
At this stall, we will also be covering the Maritime and Energy sector where visitors will have the opportunity to explore the impeccable range of various valves dedicated towards the Maritime sector like (Gate valve, Globe SDNR valve, Butterfly Valves, Strainer, Check valve) to be presented by Dikkan. The leading brand from Holland, Wouter Witzel will be showcasing the Middle East about their exemplary state-of-the-art range of Butterfly valves.
As you all know that our Surveying Department is one of our biggest strongholds, and recently we got recognized for our glorious contribution to the Ajman Conference. Now we look forward to displaying our next range of surveying equipment like the BLK 360 and RTC360 from Leica GeoSystems AG. Our recently launched GPR(Ground Penetrating Radar) has been earning huge recognitions all over, for which we are very grateful to all our patrons. And now we will be introducing the next line of GPR systems live at the venue.
Adding to this very heavily crowded list of products and suppliers above, we will also have some immensely exciting in-house fabricated product launches.
So, what are you waiting for? Come join us at this extravaganza and have a personalized experience with our experts.
Get a Quote