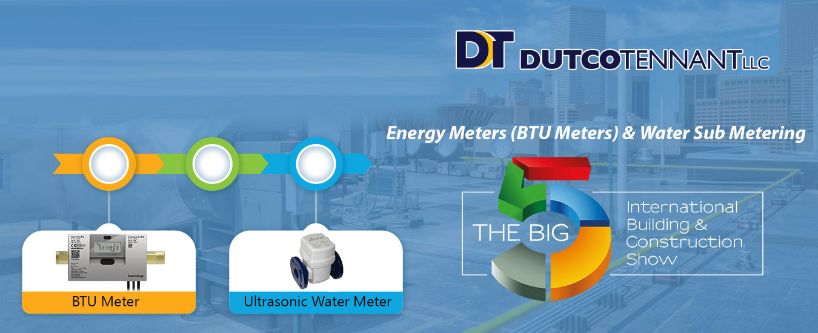 BTU METER AND WATER METERS ON DISPLAY AT THE BIG 5 DUBAI
The BIG 5 which is the largest trade fair for the construction sector is the annual meeting place for building and civil engineering professionals both international and local. This event is an exceptional platform for companies and organizations to promote their products, services, and innovative technologies as well as meet decision-makers, investors, buyers from around the world. Dutco Tennant LLC will be displaying their latest products for the MEP Supplies division in this event.
Sensus is a leading name in the world as a supplier of intelligent energy and water metering solutions. They define success by the progress they create for others. Their superior technology and expertise have been the foundation from which to transform business and markets, by creating more efficient ways of working since the company's establishment. Every day around the world, Sensus smart meters, installed in households and commercial buildings, enable the delivery of more intelligent, reliable and cost-effective ways to measure and manage the supply of energy and water. They ascended the cutting edge of the technological advancement of electricity, heat, cooling and water solutions with their hunger to always search for a better way doing things.
At the BIG 5 Dubai be ready to witness the newest range of BTU Meter and Water Meters.
BTU Meter
BTU Meters are used to measure the energy content of liquid flow in British Thermal Units (BTU), a basic measure of the thermal energy. They are used in chilled water systems for both commercial and industrial and office buildings. These meters are used to bill users for energy usage.  Heat meter employs the highly accurate ultrasonic technology. Every conceivable drop is measured due to the dynamic range 1600:1 from saturation flow to start flow (250:1 from qp:qi) reducing loss of distributed energy. The easy and user-friendly configuration of the heat meter on-site reduces installation time and errors.
Water Meters
With their expertise of over 25 years in the water industry, they provide utilities around the world with state-of-the-art ultrasonic water meters, high-performing remote reading solutions, advanced monitoring of pressure and leakages as well as intelligent data analytics. For smart water metering is an intelligent enabler for improving consumer relations and optimizing operations. It is about quality management, revenue protection, asset management and Non-Revenue Water.
Get a Quote