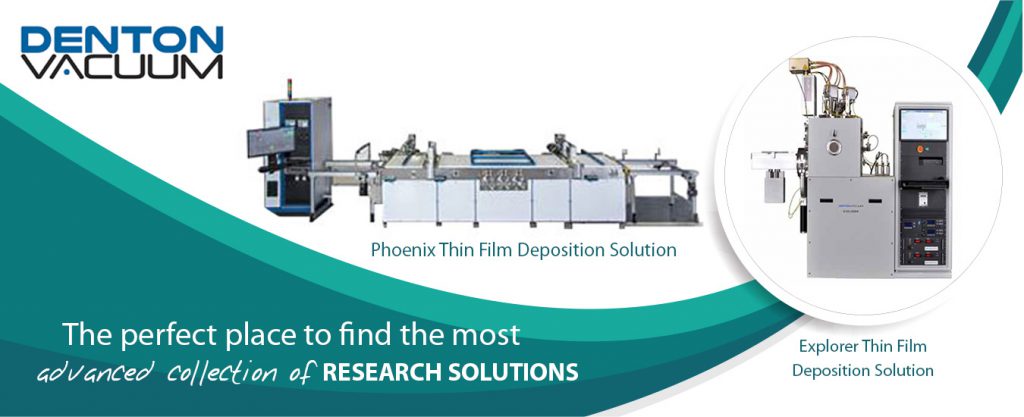 World's leading range of Thin Film Deposition Solutions comes to ARABLAB
ARABLAB is an exceptional event in the Middle East where the biggest names of Science and Technology converge to make way for a technological miracle to take place.It is one of the most influential exhibitions in the field of laboratory and instrumentation in the world and the tremendous growth in this dynamic industry have led to this trade fair to be counted as one of the most important events of its kind in the UAE. In this event, over thousands of exhibitors from over 100 countries come each year to exhibit their latest products of Science and Technology solutions to the high footfall of over 10,000 buyers.
The pioneers of thin film deposition solutions, Denton Vacuum empowers the optics and R&D markets by manufacturing a leading range of optoelectronic thin film devices that are highly innovative and futuristic. Their solutions help engineers to optimize processes and solve production challenges while improving efficiency and performance at each step. With their continued commitment to research and development of thin film coating they have been able to reach out to a wider audience globally who hail them for their extensive performance and reliability. Dutco Tennant LLC supplies their extensive products to the Middle East and GCC region exclusively and this year at the Middle East Energy, visitors of our stall will be able to witness Denton Vacuum's leading range of Research Solutions.
So what are the products that you can learn about this year? Let's find out
Explorer Thin Film Deposition Solution
E-Beam, Magnetron Sputtering & Thermal Evaporation
The explorer is a Thin Film Deposition Products which is a versatile high-vacuum R&D and pilot production platform which gives the ability to be configured for electron beam (e-beam) evaporation, resistance evaporation, or magnetron sputtering. An ion-assisted deposition is available as an option in all three configurations. The Explorer is available in a semi-manual mode or can be upgraded into a fully automatic mode with one-push button automation for reducing system downtime.
Applications –
Optical film characterization & design
Semiconductor device development
CIGS & advanced materials research
Advanced electron microscope sample preparation
Quality assurance
Failure analysis
Phoenix Thin Film Deposition Solution
In-Line Magnetron & PE-CVD Sputtering
High throughput for large volume production is offered by the Phoenix in-line system and it supports both planar and 3D component processing. This magnificent Thin Film Deposition Solution can accommodate RF, AC, DC and pulsed DC sputtering as well as PE-CVD processes, and substrates or pallets up to GEN 3.5 glass size (600mm X 720mm). It conveys a flat pallet or carrier through the system's linear chambers. The system can be configured with Denton's proprietary optical process control system or color control system.
Applications –
Wafer metallization
3D medical device coatings
AR & conductive transparent coatings
Front & back contacts for photovoltaics
Composite dielectric coatings
Discrete & hybrid circuit metallization
Get a Quote