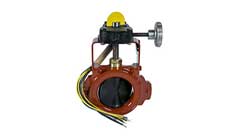 Dutco Tennant LLC offers the best in class Firefighting valves like Isolation Gate valves, Check valves Alarm check valves, Zone control valves, Pre-action valves, Pressure reducing valves, etc. are the key components of all Firefighting Systems. We have been taking care of all your firefighting needs from the past four decades. A fire event can cause untold damage to property. But sometimes, efforts to put out the fire can be just as catastrophic. Water can do as much damage to electronic equipment, paper, and other moisture-sensitive items as the fire itself. Fires affect thousands of facilities each year resulting in injury and building damage. Fire is a serious threat to the safety and security of any building. The primary goal of fire safety efforts should be to prevent loss of life and property damage by installing & maintaining reliable fire safety equipment.
The flow of fluid through piping systems is isolated or regulated by a butterfly valve. Butterfly valves for fire protection serve as control valves that turn on or shut off the flow of water to the pipes serving fire sprinkler or standpipe system but they can also be used with liquids, gases, and even semi-solids. A butterfly valve for fire protection starts stops or throttles the flow of water through the rotation of an internal disc. When the disc is turned parallel to the flow, water can pass through freely. This disc can stay in water's path at all times without significantly slowing the movement of water through the valve. There is a handwheel present which controls the disc's rotation. The handwheel rotates a rod or stem which turns the disc and simultaneously rotates a position indicator. This allows for at-a-glance confirmation of whether the valve is opened or closed.
Compared to other valves, butterfly valves are relatively lightweight, especially at larger sizes. This is because they embody a simple and economical design, they have fewer parts, which makes them easier to repair and maintain. Adding to that, their straight forward design reduces the time required to install one, decreasing labor costs. Our butterfly valves with its unique features have been used in water and fire protection Industry for many years. Butterfly valves are with discs totally encapsulated with Rubber offering bubble-tight shut off. Valves are designed for Low torque operation, High cycle life, and Low weight.
The valves are specifically designed for Firewater service and available with operators as Standard Gear units and Limit switches suitable for indoor and outdoor applications. Valves are with Flag position Indicator and Aluminum nameplates. The complete assembly is UL/FM Approved.
Specifications
End Connection Type
Wafer
Suitable to mount between ANSI 150 & ANSI 125 Flangs
Options
PN 16 flange suitability
Grooved
Suitable to mount to ANSI/AWWA Couplings
Size(s)
Available in sizes 21/2 to 8 inch.
Technical Data
| | |
| --- | --- |
| Working Pressure | 300 PSIG (20.7 bar) |
| Maximum Temperature | 160 Deg. F (70 Deg. C) |