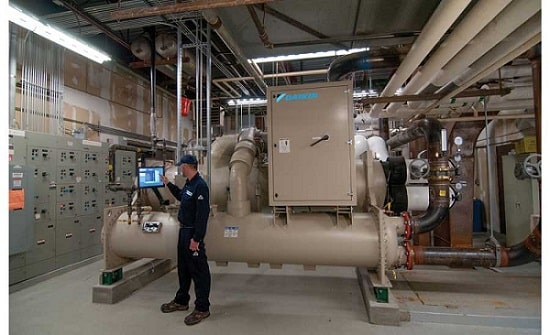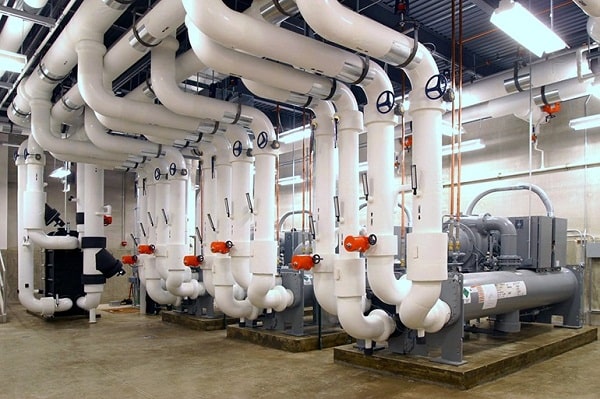 A common air-conditioning practice used in Dubai and most of UAE is the Chilled Water System. In a chilled water system (recirculating closed loop), water is circulated throughout the building to chilled water coils where the air is passed through and is returned to the room as cooled air.
Water Cooled Chillers operate in a closed-loop system which means water is recirculated for a long period of time and only through proper water treatment can we assure that water is a preferred quality. As Dutco Tennant is an expert with water treatment for chiller units in Dubai, Abu Dhabi, Sharjah and the whole of UAE, we are aware of how untreated chilled water with its impurities can cause a decrease in efficiency, increase in cost and promote breakage in equipment and pipeline by scaling, CORROSION and MICROBIAL GROWTH.
These three things would be the main concern for your chilled water system and to keep them at bay, corrosion and scale inhibitors are needed to be used. As a complete chilled water treatment solution supplier here in Dubai, we have a range of scale and corrosion inhibitor chemicals in order to cater to specific requirements of the chiller. We also incorporate a water disinfection chemical supply called biocides, as they are also crucial in ensuring that our system is not contaminated and as per municipality requires establishments to ensure no bacteria such as Legionella is present in the cooling systems.
Dutco Tennant is one of the most trusted cooling and chilled water treatment supplier, therefore, we assure you that our solutions do more than just protect your cooling water systems from corrosion, deposits, and microbiological growth. They maximize the life of your cooling water system while keeping WATER, ENERGY, and MAINTENANCE costs to a minimum and that makes Dutco Tennant standout not only as a water treatment chemical supplier but as a complete water treatment solution provider here in Dubai and the whole of UAE.
We have a wide range of performance chemical supply here in Dubai for different applications in order to cater to all systems and operational requirements. Each of our water treatment programs for your system will be different and specialized for our team will provide free site visits and inspections in order to provide you with the best solution taking into consideration our clients' needs.
In case you still don't find what you are looking for or want to have more details, then please feel free to enquire us.