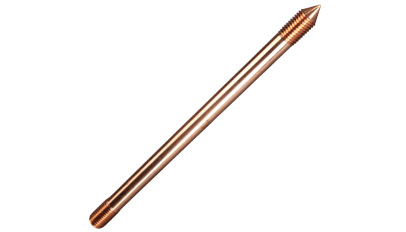 Standard
IEEE 80/81
BS 4360 (Steel)
Length of the rod excluding tapered bottom
Additional components used
Earth Clamp, Driving Head and Coupling
Specification
Earth Rod made of low carbon steel with high tensile strength of 600 N/mm2 and Grade 43A with copper cladding molecularly bonded to steel.
Copper cladding thickness -0.35 mm
Capable of being bent through 90 deg. at radius of 100 mm without copper fracture and any effects on bonding
Threads rolled on to the rod, uniform copper covering is maintained even at the root of the threads.
Extensible type and tapered bottom.
Application
An earth rod's only purpose is to have a designed electrical path to dissipate a static discharge voltage (such as Lightning) to earth.