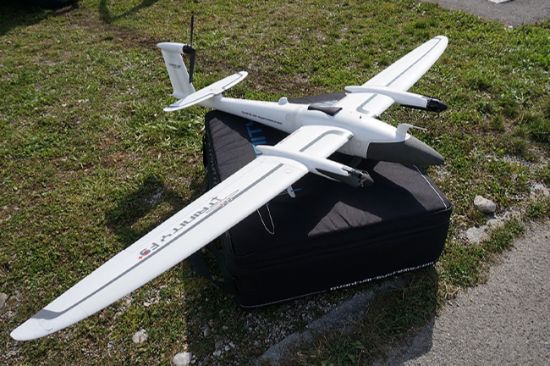 The geospatial industry has come a long way ever since the world's true operational geographic information system (GIS) was developed in 1960. New and improved technologies have made remarkable impact over the decades and in recent years, drone technology has gained immense momentum and for all the right reasons.
But taking drone technology to another level, our Fixed-wing Mapping Drone is an innovative UAV solution. Designed with the combination of convenient handling multi-rotor drones and the efficient aerodynamics of an airplane, this system offers unique outcomes for your survey projects.
This UAV system assures to deliver -
Easy and Safe Handling
Eliminating the hassle of multiple steps to get the operation started, this UAV solution has a one- button push system to perform its assigned job. The TrinityF90+ along with a simple layout remote controller offer reliable performance while still delivering emergency override operations.
Increased Flight Time
With the capability to switch to glide mode, this system allows operators to directly benefit from an improved long range capability. The glide ratio of this system is 14:1.
Integrated and Trusted Design
The optimized electric layout, the simple remote control layout, high-efficiency cargo container, the clean finish of the outer shell, etc. all supports the system to deliver the best results.
Drone Video
Features
90+ minutes*/60 minutes flight time.
Variety range of sensors with high-precision capacity, e.g. dual RGB and NDVI payload along with 42 MP HighRes RGB.
Powerful motors for delivering even more reserves in all situations.
PPK including Quantum-System iBase ground reference station powered by u-blox.
2.4 GHz telemetry with up to 7 km control range and command.
Live Air Traffic (ADS-B) including QBase 3D Mission Planning.
ADS-B Mode-S transponder (optional).