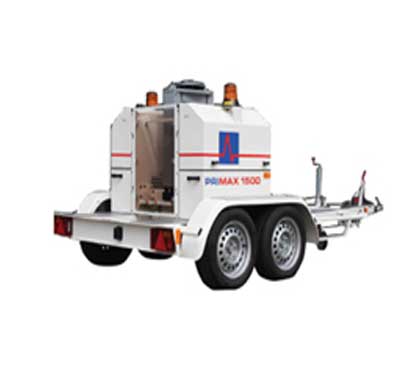 PRIMAX 1500 FWD is designed for measuring of bearing capacity on roads and other pavements subjected to loads up to maximum 150 kN. PRIMAX 1500 is mounted on a bogie-trailer as are all FWD / HWD / SHWD equipment from Sweco. This ensures optimum stability of the equipment while measuring and safe driving in traffic with automated equipment safety monitoring and warning system.
Equipment from Sweco is top-quality, durable, strong, reliable, stable and fast working.
It complies with international standards and is ISO 9001, 14001, OHSAS and AASHTO R-32 certified.
Analyses and calculation of the data results are processed with PRIMAX Design. PRIMAX Design integrated in the PRIMAX survey software that allows the operator to analyse deflection and load signals at any measured point on site.
PRIMA100 Light Weight Deflectometer is portable and easy to use and provides first-class measurements of bearing capacity of natural soil and foundation layers. Like the traditional Falling Weight Deflectometers it applies an integrated high precision load cell for measurement of impact load of each individual measurement providing a correct bearing capacity result irrespective of soil type and material.
PRIMAX 2500 Heavy Weight Deflectometer is designed for measuring of bearing capacity on larger roads, airports, harbour and industrial floors.
PRIMAX 3500 Super Heavy Weight Deflectometer is designed for measuring of bearing capacity on airports, harbours, industrial floors – pavements subjected to very heavy loads.
PRIMAX 2500 and PRIMAX 3500 are mounted on a bogie-trailer or integrated in vans.
Features
Sweco Pavement Consultants (PMC) provide Bearing capacity measurements and design of pavements equipment for road and airport pavements to keep pavements safe and well maintained for the traffic.
Products Covered
LWD Construction
FWD Roads
HWD Airports
Van Integerated Deflectometer
Mobile retroreflectometer