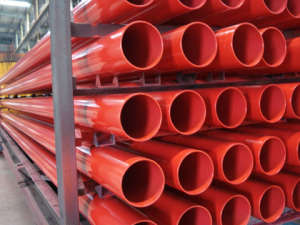 Ensuring that the fire systems in a commercial property are functioning properly is a critical responsibility of any building owner. Not only can these systems protect your building from irreparable damage, but they can also save off the lives of the people inside them. To meet this responsibility, it is important that your pipes and fittings are tested and certified, not just the sprinklers themselves, because they can affect your entire system's operation and performance.
Fire sprinkler pipe and related fittings are generally made of carbon steel or ductile iron material and used to carry water or other liquid to connected firefighting equipment. It is also called fire protection pipe and fittings. According to the corresponding rules and standards, the fire pipeline needs to be red-painted, (or with red anti-corrosion epoxy coating), the point is to separate it with another pipeline system. Since the fire sprinkler pipe usually installed in a static position, it requires a high level and restricts quality control.
In the modern world, fire sprinkler pipe and fittings have to possess good pressure resistance, corrosion resistance, and high-temperature resistance.
The CPVC, Ductile Iron and Galvanized Steel - pipes & fittings are the most widely used plumbing system in industrial units, warehouses & fuel stations. Once these pipes & fittings have coped with sometimes harsh site conditions, pressure pipes will have a long life when buried which could be subject to various hazards, due to either the operating conditions or the environment, such as overpressure, water hammer, ground movement, or pipe bed destabilization.
Selection of a pipe with a high safety factor and mechanical aptitude offers a guarantee of long investment life and service continuity. We offer quality pipes & fittings in various diameters and lengths based on our customer's requirement.
In this range, we have CPVC, Ductile Iron, and Galvanized Steel.
CPVC piping system for automatic fire sprinklers provides superior hydraulics, ease of joining, increased hanger spacing in comparison to other thermoplastics and ease of assembly.
CPVC Advantages
Safety of potable water and long-term reliability
Resistance to corrosion, tuberculation, deposits
Chlorine and chloramine resistance
Lightweight, easy to transport
Available in wide range of sizes
Noise and water hammer resistance
No scrap value, avoiding jobsite theft
Durability and toughness to survive jobsite installations
No flame used for joining, solvent cement joints
Universal compatibility of pipes/fittings
Professional installed appearance
The mechanical properties of ductile iron, combined with flexible rubber gasket joints, have resulted in the development of robust, flexible pipe systems, capable of withstanding the operating conditions or adverse site conditions without damage. Ductile iron pipes now constitute the best-engineered offer in the market for medium-and large-diameter pipes.
The use of galvanized steel is an excellent means of preventing corrosion by oxygen under the right conditions. The galvanizing process involves the application of a thin layer of zinc to the surface of steel to protect it from corrosive attack.
Features
Steel tubes undergo the hot-dipped galvanizing process.
Pre-manufactured steel tubes dipped in molten zinc to provide excellent corrosion resistance.
Range includes pipes from 21-273 mm outer diameter.
Used widely in building projects as sprinkler pipes