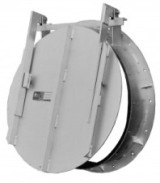 Flap Valves are valves that allow movement only to a single way and are installed at the open end of a culver or pipeline. Their function is to allow downstream water to exit the pipe through a one-way flap door and prevent the rising water levels outside of the pipe from entering the pipe and flowing back up the system and flooding the protected area. Flap Valves are corrosion resistant and lightweight and they act like Check Valves and Non-Return Valves for the prevention of reverse flows. Traditional Flap Valves are manufactured from Cast Iron which has access to these, our standard range of Flap Valve is manufactured from HDPE which is a high strength, thick material which provides a whole bunch of benefits. They are available in several forms for most of the installation methods. The Flap Valves can be spigot and wall-mounted or also be obtained as flange mounted.
These Valves incorporate several sealings for ensuring leak prevention into the pipe system. AN integrated lip seal that is made up of EPDM can create a watertight seal between the body and the flap of the valve. All the flap valves are offered with a strip of self-adhesive neoprene for offering a seal between the wall and the valve or pipe.
Features
Available in spigot, wall, or flange mounting options
Lightweight range of flap valves
Quick and easy installation options
Rigid and Robust Construction
Low cracking heads
Completely recyclable
UV Stable
Made with corrosion-resistant materials
Specifications
Stainless steel hinges require minimum maintenance
All models up to DN400 can withstand a constant pressure of 6 mwc as standard
Technical support available from Flexseal
25 year minimum life expectancy
Manufactured to DIN 19569-4
Our flap valves are supplied in accordance with ISO 9001:2008 requirements.