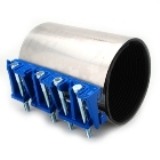 Pipe Leak Repair Clamps are devices that are used for repairing and sealing a pipeline that contains a leak. This is a permanent way of repairing pipes. The pipes which are damaged, cracked, or corroded locally can be repaired using this method. We supply various types of clamps for pipelines. Our supplied range of pipelines has been designed repaired and manufactured for a wide range of pressure ratings and dimensions. They are flexible clamps which comprise of one or more rubber-lined, stainless steel band sections. They can be used quickly for an easy, quick, and permanent repair of damaged, corroded or broken pipes. They can be applied to Grey Cast Iron, Ductile Iron, AC and PVC Pipes, Steel, and others. The clamp mainly comprises of no loose parts and can easily get lost during the installation process.
Features
Female and Male bosses are available to take off supply.
Single wrap-around design and varied bolt lengths allow for easy and quick installations.
Mild steel and stainless-steel versions.
Available with Nitrile or EPDM gaskets.
Available in lengths of 200mm and multiples of it.
They are suitable for spun iron, steel, cast iron, asbestos, or ductile iron cement pipe.
Waffle gaskets can resist climatic conditions, gas, oil, petrol, and water.
Gasket approved for use with potable water.
Self-stabilizing finger brackets for preventing the bending of the bolt.
Resistant to corrosion.