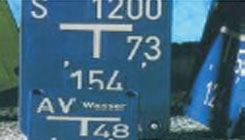 Marker Plates are made of a bicolour injection-moulded plate in ASA Thermoplast (Luran S), which can take extreme weather, temperatures and shocks.
Thanks to their absolutely non-reflecting matt surface, they allow easy reading even at a distance.
They are firmly fastened by 4 countersunk stainless steel (V2a) screws in a firm, flat mount.
They can be fitted either with SGM inserts or with all inserts currently produced by other manufacturers.