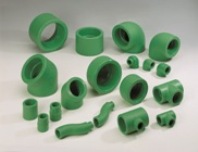 We offer a wide, comprehensive series of PP-Rfittings to complete the different pipesystems.The range includes transition fittings, end parts made withmale and female threaded inserts, flanged joints, valves,in addition to supplementary fittings that allow you to joinand create connections with all the pipe and fitting systemsoffered by the company.
The junction between the parts is done through polyfusionwelding (socket welding up to O 125 mm, butt welding forgreater diameters), a process that ensure maximum sealsafety even in the most extreme conditions of use.
Constant attention to market requests and requirementshas also led us to create a design center that can make manifolds and special parts onspecific design requests.This department is supported by a technical studio with ateam of qualified personnel who, in addition to managingthe design part needed to create the details tailored to thecustomer, is also able to guide the customer in choosingthe most appropriate type of product, based on theconditions of use.
Technical features and Marking
Colour : Green (with brass-coloured insert) up to Ǿ315.From Ǿ355 depending of the pipes used for therealization.
Reference standards : Product in compliance with the requirements requestedby the EN ISO 15874, DIN 8077 and 8078 Europeanstandards and with Ministerial Decree 174.
Field of use : Can be used with all the fusio-technik pipe ranges inthe related fields of use
Marking : All the fusio-technik range fittings (except when thereduced dimensions of the parts do not allow it) bearthe company information, the year of manufacture, partmeasurements.