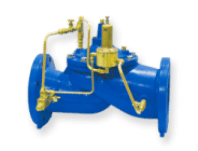 The 106-RPS and 206-RPS pressure relief valves are based on the 106-PG and 206-PG main valves.
The 81-RP pilot senses the upstream pressure through a connection to the valve inlet. The valve and pilot remain closed until the inlet pressure exceeds the pilot setting. The valve opens rapidly to relieve damaging overpressure and closes smoothly at an adjustable speed, when the pressure returns below the set-point. The upstream pressure is limited to the pilot set-point.
Features
Limits system pressure by relieving excess flow
Quick opening relief
Easily adjustable pressure setting
Specifications
106 / 206-RPS Relief Pressure Relief Valve
Where UL / FM designation is required, specify 106-RPS-8700A. Available in 2-1/2 in / 65 mm to 8 in / 200 mm globe and angle configurations, ANSI 150 and ANSI 300 flanges, and grooved end connections.