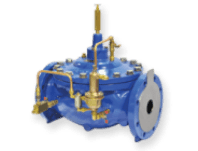 106 / 206-RF Flow Limiting Control Valve
The 106-RF and 206-RF Flow Limiting Control Valve are based on the 106-PG or 206-PG main valves.
The valve is ideal for limiting the flow to a pre-determined maximum (via maintaining a continuous pressure differential across an orifice). When the pressure differential is less than the set-point, the valve opens, allowing flow to meet predetermined demand. At the desired maximum set-point, the pilot reacts to small changes in sensing pressure and controls the main valve position by modulating the pressure above the diaphragm.
When the pressure drop across the orifice exceeds the set-point, the valve closes slightly, limiting the flow to the pre-set maximum. The orifice is usually sized to generate a pressure differential of 3 to 5 psi / 0.2 to 0.35 bar at the desired flow. Adjusting the pilot setting permits the maximum flow to be changed in the field above or below the original point.
Features
Accurately limits flow to a pre-set maximum
Easily adjustable flow limit
Optional orifice plate housing
Paddle-style orifice plate included
Specifications
1. RATE OF FLOW CONTROL VALVE
Supply a insert sizeSinger Model specify model as 106/S106/206/S206 – RFRate of Flow (Flow Limiting) Control Valve.
Function: The valve shall be a pilot operated flow control valve which willlimit flow rate to a preset maximum.
Operation: The pilot shall be a normally open Singer Model 160-RFRate of Flow Pilot that reacts to small changes in differential pressure across a downstream orifice plate, which acts to modulate the main valve bonnet pressure to hydraulically adjust the inner valve assembly position to maintain a maximum flow rate as a function of the orifice plate bore and differential pressure control setting.
Quality Assurance 
The control valve shall be tested prior to shipment. The standard test shall include a functional stroke test and pressure and leak test of valve body, seat, fitted pilots and accessories.
The control valve shall be covered by a minimum three (3) year warranty against defects in materials and workmanship. The AISI 316 stainless steel seat ring shall be covered by a lifetime guarantee.
Main Valve
The main valve shall be a Singer specify main valve model number(106/S106/206/S206)-PG single chamber, diaphragm actuated specify (full/reduced) port model.
Main valves, 6" (150mm) and larger, shall provide smooth frictionless motion to ensure a low flow stability to specify minimum USGPM or L/s, achieved using SRD-Single Rolling Diaphragm technology.