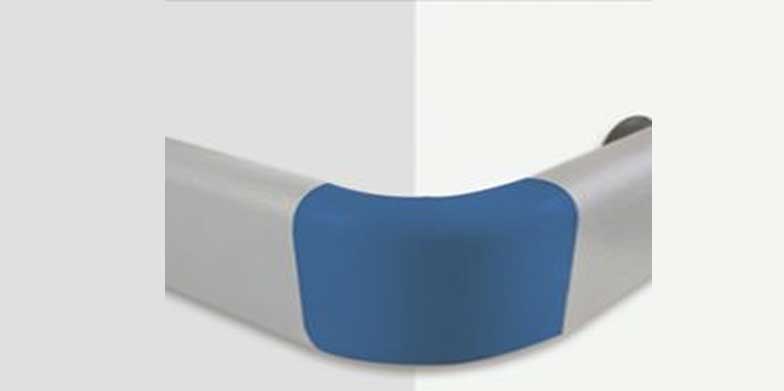 PVC Handrails & Crash Rail is meant to safeguard the high-risk environment walls and gives a good appearance. Handrails are mainly used at hospitals, rest homes, etc., and help especially old and suffering people walking in an easier way as well as protecting the walls. PVC wall protection system with an aluminum retainer is mounted on the wall with a special bracket system. Inside & outside corners and end caps are available. We are the most reliable supplier of PVC railings in the Middle East. We supply vinyl products that have been ranked number one for sales among all the suppliers of PVC railing and brands in the region. Our products can continuously get you high marks for their exceptional performance and quality. Our trusted line of vinyl railing gets you an exceptional combination of durability, beauty and is easy to be taken care of. The railings supplied by us can stay as beautiful they are for years without the time-consuming and costly maintenance of wood.
Our supplied range of crash rail wall protection systems is also known as vinyl railing. They are a perfect blend of highly tested and controlled ingredients which all together contribute towards the appearance, performance and durability of the products which we are supplying. High-class railing can be produced only from the best in class raw materials and we assure that the materials used by us are certified according to the exact standards. The PVC Handrails supplied by us have been made by keeping in mind about the safety and they can meet the most stringent needs for performance and quality. They are all building code approved and have undergone third-party testing as designated by the authorities. The railings have been features high-class aluminum-reinforced top and bottom rails which can endure strength and secure the rail-to-post connections. There is color-lasting fade protection offered by our products. This feature offers superior color retention and the color lasts for a long time comparing with the competitive products. We have a suitable range of PVC railings and accessory products that can be used for all types of applications and jobs. We manufacture PVC railing so that they can be installed securely and easily. Our supplied railing systems come with precision-fit routed components and come with brackets that can keep the posts snug and square. They are having a uniquely molded vinyl brackets which can cover and offer a seamless appearance and protection from all types of elements.
Specifications
Profiles based on aluminum structure, covered with durable, scratch-proof and antibacterial PVC shell.
Inner and outer corner parts and end caps offer complete application system.
Bracket parts are used to mount the hand rail profiles on a wall, generally with 50 cm gaps. The standard length of profiles is 3 mt.