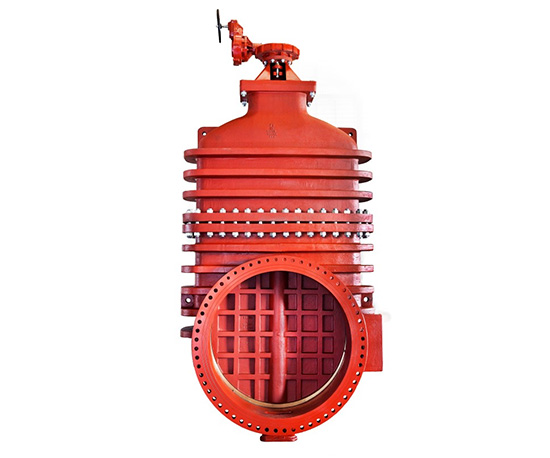 Sewage treatment is the process of removing contaminants from municipal wastewater, which mostly comprises of household sewage and some industrial wastewater. Physical, chemical, and biological processes are used to remove contaminants and produce treated wastewater (or treated effluent) that is safe enough for release into the environment. The by-product of sewage treatment is a semi-solid waste or slurry, called sewage sludge. The sludge has to undergo several further layers of treatment before being suitable for disposal or application to land.
The process of innovation and continuous improvement has designed a new sewage non-rising gate valve. The process has been based on the development of the features that our customers perceive as most important. The design has evolved using finite element calculations and confirming the results with low-pressure fatigue tests. The current globally accepted concept in the waterworks Gate Valve technology is the resilient seated type. The valve comprises of straight-through flow passage & fully rubber encapsulated gate and combines the virtues like low pressure-drop, drop-tight seats & low operational torque. We supply resilient seated Gate Valves which offer these and much more with its unique features, workmanship & quality. For any of your requirements, rely on this reliable & trustworthy valve for prolonged trouble-free service. The non-rising gate valve - Resilient Seated hits the market as a highly innovative and ready to work design entirely safe for a long lifetime.
Dutco Tennant LLC brings to the Middle East, the Resilient Seated Gate Valve (RSLV) comparable with the best globally. These valves offer an unparalleled combination of features, workmanship, quality, and cost-effectiveness. Filled with high-class features, by incorporating high precision tooling and manufacturing processes, RSLV is based on the selection of best grades and quality of materials.
Features
Safety
Efficiency
Full tightness
Long services
Zero Leakage
WRAS approved
Maintenance-free
Corrosion resistance
Ensures low operation torque
Full bore & creates no obstacle
Valve ends can be flanged, screwed and spigot
The wedge is completely encapsulated with EPDM rubber
IBBM (iron body and bronze mounted), stainless steel, and all iron trim are also available
Special accessories like by-pass unit, valve locking device, tapped bosses, indicator and limit switches are also available
Various types of operators such as handwheel, operating nut or cap, chainwheel, spur gear, bevel gear, pneumatic, hydraulic and electric actuator can be provided upon requested
Machine parts
Locking device
Electric Actuator
Position Indicator
By-pass arrangements
Bevel or Worm Gearbox
Handwheel / Extension Spindle