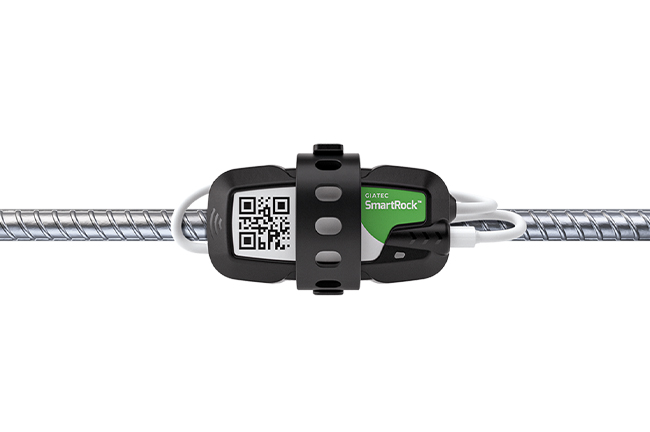 The study and monitoring of different aspects of concrete such as concrete maturity, strength gain, temperature and other properties help in taking vital decisions and improve construction projects. Our SmartRock wireless concrete sensor is a leading surveying solution that allows users to monitor concrete strength and temperature in real-time.
This fully embedded sensor give users the easy access to monitor concrete temperature, temperature differential within the same concrete element, measure ambient (exterior) conditions, calculate concrete strength utilizing the standard ASTM C1074 maturity method, track strength at varied locations of your pour and help users know as soon as pour attains the strength requirements.
Advantages of Using SmartRock
Eliminate Delays in Concrete Testing
No wires or testing lab requirements, as this is fully embedded on the rebar allowing users to make rapid decisions onsite and prevent the chance of unnecessary setbacks. 24/7 Pour Status
It delivers real-time data and is equipped with 24/7 remote monitoring capabilities. Therefore, enabling users to check the status of the pour and receive notifications anytime, anywhere and on any device.
Enhances Data Accuracy
SmartRock uses the maturity method that is approved by ACI and ASTM. It is considered to be an accurate and reliable concrete strength measuring test for onsite projects. We at Dutco Tennant LLC supply high-quality surveying solutions that are designed to support varied projects.