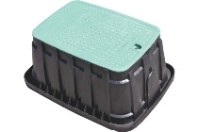 Get solenoid and isolating valve boxes for Sports Turf Irrigation supplied by us. They are available with a super- resistant design and are designed with reinforced polypropylene. They are designed innovatively for helping to place the solenoid valves, filters, valves, and others inside it in a very orderly manner. For placing the pipe into the manhole, the side walls have been perforated. When you are reinforcing the sides with concrete, it can increase the strength even more. With super-reinforced plastic, the covers have been made and they are UV treated to ensure complete resistance on the outside. You can use these for sports facilities and the golf area.
Features
Valve boxes of super-resistant design made of reinforced polypropylene.
The design allows conditioning solenoid valves, valves, filters, etc ... inside of a simple and orderly.
The side walls are perforated for insertion of the pipe into the manhole.
These chests allowed to be formed with concrete in all its primetro thus strengthen even more the sides.
The covers are made of super-reinforced plastic and UV treated to ensure total resistance to the outside.