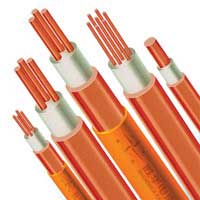 Fire Survival Cable System – provides the ideal solution to many difficult and demanding wiring installations making a permanent and dependable wiring cable system for all low and medium voltage applications. Safe in hazardous installations and radioactive environments. Exceeds all world wide fire performance standards. The MI Cable System is the natural choice for domestic, commercial and industrial applications.
Features
Fireproof
High Operating Temperatures
Inherent Flameproof Barrier
Zero Energy
Non-Ageing
Great Mechanical Strength
Small Overall Diameter
Pliable
Wiring Cable and Conduit Combined
Competitive Installed Cost
High Degree of Electrical Screening
Radiation Resistant
Integral Earth Continuity
High Corrosion Resistance
Waterproof
Range
Range: Two voltage grades – 500 and 750 Volts, are available with conductors from 1.0 sq.mm to 240 sq.mm. Our full range of complementary accessories and tools provides a complete wiring system that surpasses most of the international standards.
Benefits
Mineral Insulated Fire Cables survives the fire test requirements for enhanced grade cables as defined in BS 5839: part 1.
Peace of mind from the third party (LPCB) approval for categories C, W and Z in BS 6387.
Also attains categories C, W and Z of BS 6387 with one single cable sample.