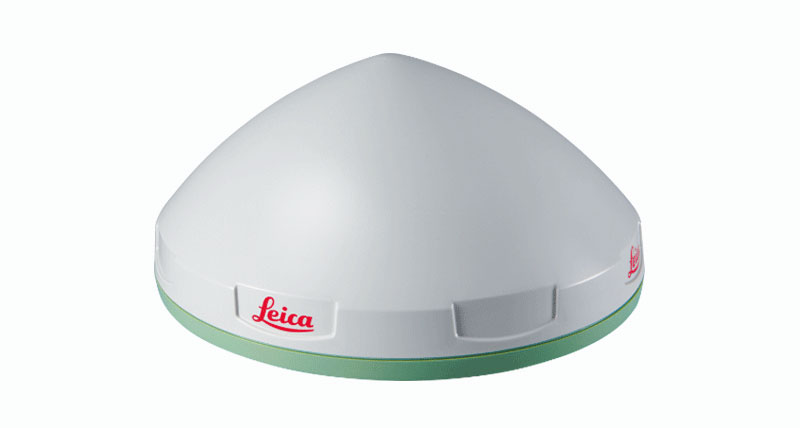 The AR10 is the ideal antenna for a wide range of high accuracy permanent and mobile base station applications. Using state-of-the-art technology it offers near choke-ring level performance but without the weight, size and cost. An all new antenna design, together with a large ground plane and integrated radome, ensures that the AR10 provides exceptional GNSS signal tracking, phase centre accuracy and multipath suppression.
Features
Integrated Radome

Thanks to the integrated radome, the AR10 prevents build up of snow which could otherwise degrade signal quality.The non-spherical radome is designed for optimal signal quality and has the added benefit of discouraging birds from perching on the antenna, a common source of signal attenuation with rounded radomes. The aerodynamic shape of the antenna reduces wind loading and together with the light weight ensures that the AR10 can be used with a variety of antenna masts or as a field or campaign base on a tripod. Constructed using a robust and UV resistant enclosure the AR10 is made to withstand extreme temperature, humidity, dust, salt, solar radiation, pollution, shock and vibration.

Superior Performance

Designed from the ground up for wideband tracking, the new wideband antenna technology introduced in the AR10 provides superior low elevation tracking, multipath suppression and antenna phase centre accuracy across all frequency bands. An all new low noise amplifier (LNA) is used to provide exceptional low measurement noise for superior measurement quality. The new LNA technology also has excellent out of band rejection, helping to significantly reduce potential interference due to jamming. The AR10 is suitable for use with antenna cable lengths up to 70 m without the need for an in-line amplifier.

Future Proof

With emerging satellite systems close on the horizon, such as the European Galileo system and the Chinese Compass (Beidou 2) system, it is more important than ever before to have a true GNSS antenna.
Specifications
Technical Specification
Lelca AR10
Design
Planner Structure with large ground plane
Signals tracked
GPS: L1, L2 (including L2 C), L5
GLONASS: L1, L2, L3, L5
Gallleo: E1, E5a, E5b, E5ab, (AltBOC), E6
BellDou: B1, B2, B3
QZSS: L1, L1C, L2C, L5, L1-SAIF, LEX
L-Band (incl. SBAS, TERRASTAR, and CDGPS)
Phase Centre
Accuracy: Typically less than 2 min
Repeatability: Within 1 min
Dimentions
240 mm x 140 mm
Weight
1.12 kg
Supply Voltage Range
3.3 - 12 VDC
Connector
TNC
Mounting
Standard 5/8" Whitworth thread
Nominal Impedance
50 ohms
Gain (typically)
29 dBI or 40 dBI optional
Current
110 mA maximum
Noise Figure
less than 1.8 dB
Axial Ratio
less than 1.4 dB at zenith
Temparature Range Operating Storage
ISO9022
-40° C to +70° C
-55° C to +85° C
Environmental Protection
Humidity: up to 100%
Rain, dust, sand, wind: IP67 - Protection against blowing rain and dust. Waterproof to temporary submersion into water [1m]
RoHS complaint
Yes
Vibration
ISO9022-3, 10 to 55 Hz, 2g, ±0.15 mm
Drop
Withstands 1.2 m drop onto hard surfaces
Antena Cables
Are available in lengths of 1.2/2.8/10/30/50/70 meters. Long cables available on request