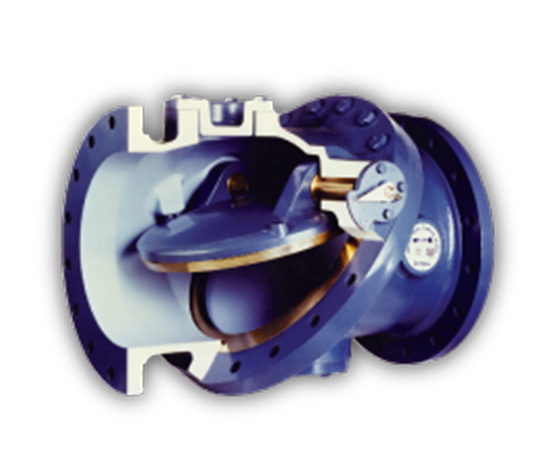 Dutco Tennant LLC offers a Tilting Disc Check Valve which is the most versatile and reliable check valve of our entire range. Our valve range offers significant energy and cost savings over the life of the valve due to its large flow area and low head loss characteristics. The tilted disc check valve is made of 2 piece body, designed to accomplish full flow opening by having the disc pivot or tilt in the flow media. The opening stroke range is much less than that of the conventional Tilted Disc Check Valve, therefore, it reduces opening and closing time crucial to controlling flow reversal and reducing sewage water hammer. The full flow area with lower headless ensures the check valve will operate with the highest efficiency and durability.
The short disc travel from full close provides the ability to close very rapidly or very slowly to avoid contributing to slamming and surges. The tilting disc check valve is also offered with an upper hydraulic dashpot to aid in disc closure in multiple pump systems even after a power failure. Dutco Tennant LLC can also provide help to clients who are in search of specialty valve for applications where opening and closing times are critical to control flow reversal and reduce water hammer.
A wide range of benefits is offered by the valve. The short disc travel from fully open to close and provides the ability to close very rapidly or very slowly to avoid contributing to slamming and surges. Due to pivot points that allow for cushioned movement of the disc into the seat, the action of the fluid on the disc is balanced. Long body laying length permits smooth passage of water with minimum turbulence and low potential for cavitation. The valve has stainless steel stub shafts that do not come in contact with the fluid and can be lubricated either manually or automatically. The design of the seat and hydraulic dashpot cushions the closing forces on the disc to allow for smooth operation which prevents slamming of the disc into the seat.
Overview
High Performance Capabilities
Interior epoxy coating standard
ANSI Classes 125, 150 and 250
Energy efficient - cost savings table
Independently certified flow and cycle tests
Flow area equal to 140% of nominal pipe size
Lowest head loss check valve available chart
Manufactured under a certified ISO 9001 quality system
Features
Drop tight shut-off.
Robust construction.
Minimal maintenance.
Low Hydraulic Head Loss.
Minimal wear on moving parts.
Lift & Tilt Seat Action - prevents wear.
Hydrofoil disc design provides disc stabilization.
Bottom Mounted Oil Dashpot - prevents slamming.
Top Mounted Oil Dashpot - prevents slam and surges.
Dual by-pass - for backwashing screens and draining.
Quick disconnect coupling for ease of dashpot removal.
40° Short Disc Stroke - provides quick closing and reduces water hammer.
Inspection Ports - allow upstream/downstream seat access, mounting ports for dashpots.
Valves can be fitted with bypass on the right-hand side of the body when facing valve inlet.
Optional accessories : Signal switch, By-pass, Hydraulic cylinder (top / bottom / side mounted)
Lift & Tilt Disc Action, Disc Stabilization and Material Selection - combine to provide long valve life.
Disc Position Indicator - for indication and SCADA compatible switches indicated open and closed.
Material Specification
Sizes: DN50 – DN 1800
Hinge Pins: Stainless Steel
Pressure rating: PN10/16/25
Body, Cover: Ductile Iron /Cast Iron
Seat(s): Stainless Steel / Gunmetal / Rubber
Hydraulic Test: 1.1xPN for Seat & 1.5xPN for Body
Coating: Nontoxic Epoxy Internally & Externally
Internal, external bolts, nuts: Stainless Steel / Galvanized Steel