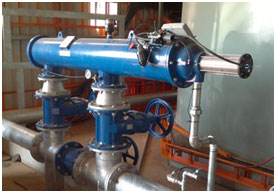 The automatic self-cleaning filter with double cleaning system
High efficiency due to the combined action of brushes and vacuum pads.
Stainless steel housing and filter cartridge
Multi-layers screens with several filtration degrees
No interruption flow during the cleaning cycle
The economic and robust choice for automation of filtration
Very simple and reliable cleaning mechanism with special pads with brushes
filters are automatic sewage filters with double cleaning system: suction scanning, complete with brushes, driven by an electric motor.
Thanks to a flexible mechanism of a scanner, ensuring adherence to the screen, this filter has high cleaning efficiency: first, the brushes remove grosser dirt from the screen; second, the pads suck the finer dirt.
ABV filters can support flow rates of up to 600 m³/h (2642 US gpm) with five sizes of screens up to 8100 cm2, with several multi-layers screens covering the range of filtration degree between 1000 and 25 μm and with different range of inlet/outlet flanged connections between 2" and 12".
Available 2 Controllers
Basic controller (differential pressure and/or preset time and/or manual start, IP54, 4DI,4AI/DI, 4DO, LCD Display 1.5")
Full controller (as Basic but it can be integrated into existing systems, no needmonitoring, IP54, 4DI, 4AI/DI, 4PowerDO + 3DO, LCD Display 3.5")
Applications
Automatic self-cleaning filters Applications :
Irrigation
District Cooling
Water Treatment
Food industries
Treatment plants