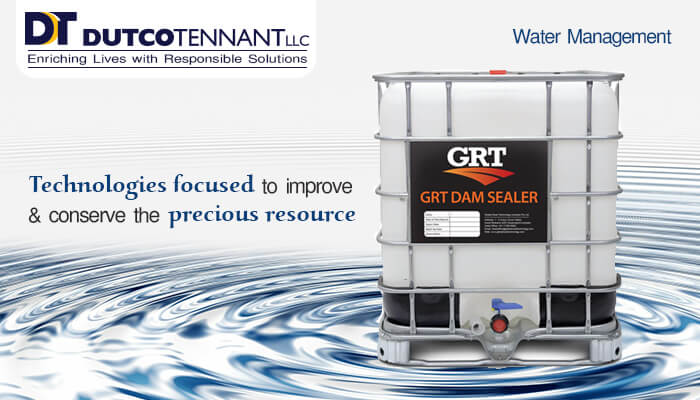 A look into our Water Management Products
Water is an important resource and management of water resources is a key challenge for the environment in which the world is facing today. This challenge will become much more critical over the coming decades as we are forced to balance the priorities of water across the potable requirements, agriculture, industry, and ecological demands. Our supplying partner, GRT mainly focuses on 2 key elements which are quantity and quality of water. Saving water with the use of high-class dust & water management products has been a big focus of the company. This commitment to managing water has been expanding into the creation of cutting-edge technologies for saving water and also for improving the quality of the stored water.
Dutco Tennant LLC has a complete life of water treatment services and products which can help the user to have a higher value for money solutions along with reliable, expertise, and outstanding support. With more than four decades of experience in the GCC and Middle East region in offering reliable drinking water systems, industrial and commercial water treatment systems along with water management products and services, we also have all the water management products and services which you may require. Our water management products can tackle a wide range of challenges related to water. These range from process water requirements via transforming wastewater into a resource, economically and by keeping the environment in mind. The Water Clarification Products from GRT comprises suspended contaminants in the water for forming a complex interconnected structure. As the particles get connected, they can become much heavier and settle out of suspension. The GRT Water Clarification Products are safe and can be applied in the most challenging environments.
GRT: CC
Concentrated Coagulant is used for clarifying water which is contaminated with finely suspended clays mainly in sedimentation basins and dams. It is also used for removing nutrients like phosphate and fluoride from water. These ultra-fine suspended solids will in time not settle down on their own as the negatively charged surfaces repel each other to continue to suspend the particles. GRT CC can separate the suspended solids and dissolved compounds from water.
Application Areas –
Water Storage Dams – civil, resources, and mining
Sediment Basins
Irrigations Dams
Any type of contained receiving waters
GRT: Liquid-Floc
GRT: Liquid-Floc is considered as a premium flocculation product that utilizes long-chain polymer technology for clarifying water by capturing the suspended particles and dropping them out of suspension. This clarifies water which is contaminated with finely suspended particles in sedimentation basins and dams. When used along with GRT's concentrated coagulant, the performance of Liquid-Floc can be hugely enhanced.
Application Areas –
Sediment Basins
Water Storage Dams – civil, resources, and mining
Irrigations Dams
Any contained receiving waters
GRT: Floc-Bloc
Floc Bloc takes advantage of the power of the Liquid-Floc but in an easier to use, set and forget solidified block. This is a great and simple way of polishing water as it flows through overflow points or in open channels. It is extremely easy to use by simply placing it among your rock check dams with the help of rocks to hold the block in place. It removes solubilized soils and clay from water, prevents colloidal solutions in water within the ditch systems, binds cationic metals inside water, reducing the loss of pesticide and fertilizer loss.
If you need these products for your projects in the Middle East, then you can get them to form Dutco Tennant LLC. We are the largest supplier of Water Management Products in the region and we have a supplying partnership with GRT.
Get a Quote