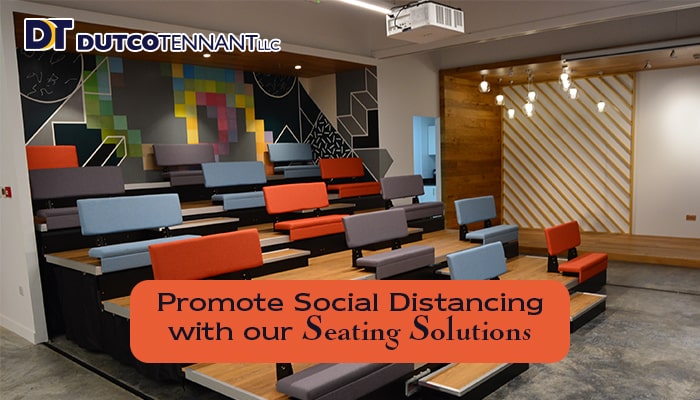 A LOOK INTO THE SEATING SOLUTIONS FOR THE COMING DAYS
This year has really been uncertain and unhealthy for all of us. We have all been living in a phase of darkness. Well as the reports and experts are suggesting, that our days of darkness are not yet over until a viable vaccine or drug comes out, but businesses can't be kept off completely right? So for that, we are beginning to go back to normal or at least trying to reach a certain level of normalcy.  While our life is returning back to pre-pandemic days, leisure and arts industries are going to be affected more than any other economy. As a supplier of quality seating solutions in the region, we try to give an overview of how the venue owners need to adapt and comply with the new guidelines in the coming days for ensuring high standards of safety for their audiences. So, let's dig in.
Retractable Seating
Seating is one of the bigger concerns which owners and managers of the venue will have to look after. They may like to keep audiences further away from the performers or they can also try to reduce the capacity of the hall. And for this, movable and retractable stands can be the ideal seating solution. Retractable seating can easily be folded away when not being used. They are also known as telescopic seating or bleachers. They save a lot of storage space, maximize revenue from events from the number of available seats, provide optimum viewing angles to the audience, provide flexible use of venue space, and also comfort. Using these types of seats can allow for more space between the stage and the seats. You can even fully retract your stand and put free-standing chairs in the space instead. Also, modular retractable seating can work well as they offer a level of flexibility and add more seating to a room. It can also change the configuration so that you can allow for more space between audience members while retaining the same crowd size. Depending on the regulations imposed by your state, you can also remove seating blocks or introduce seating for standing venues. Make sure to use solutions that can be easily removed for cleaning without staff members having to put themselves at risk.
Audience Safety
You need to observe more stringent cleaning regimes and also train your staff accordingly with the new methods for the highest level of security. You need to assure your audience and maintain complete transparency about the cleaning process so that they can completely be in peace and enjoy the show. Apart from that, you need to do a lot of crow control during the start of any event or match, as queues are very likely during the beginning and end of a show or event. You must try to make a very large gathering during the entry and exit. If you have a large venue that hosts more than one event at a time then you must carefully determine the start and ending time of those for avoiding any type of gathering or overcrowding.
Social Distancing
It will be very essential for pre-booking allocated seats and seat numbers to make it very clear that your spectators where they need to sit for maintaining social distancing. You can try using simple yet effective innovations like seat cover which will help to avoid any type of confusion by blocking them off seats for allowing the required social distancing between the individuals.
By following the required safety precautions, we can surely hope that audiences will soon be able to enjoy live events and shows like they used to do during the pre-pandemic days.
Dutco Tennant LLC supplies different seating solutions such as bleacher seats, lecture hall seating, retractable seating, & auditorium seating for different indoor and outdoor places such as colleges, universities, schools, stadiums, airports, hotels, and various other places. You can get in touch with us if you want these seating systems for your projects anywhere in the Middle East and GCC region. We recently worked for Auditorium Seating for American University Sharjah and Telescopic Seating for DFC Innovation Hub.
Submit your remarks to share your thoughts related advanced range of Seating solutions : +9714-2152799
Get a Quote