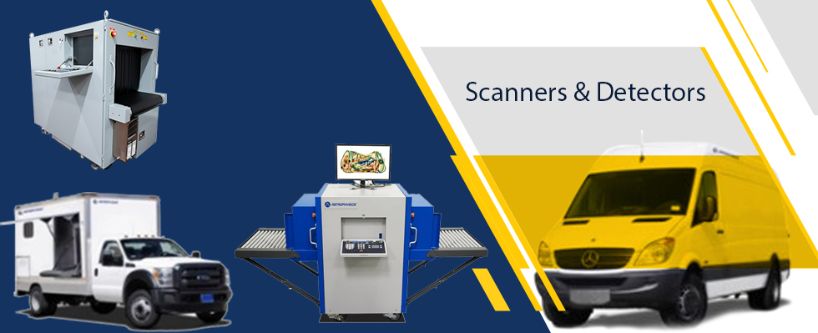 ALL ABOUT OUR SCANNER & DETECTOR PRODUCTS
At important public places like schools, offices, airports, or other places where scanners and detectors can be implemented, a sense of security can be created. Security teams who are using these devices can easily be able to monitor anyone entering a particular area and everything they are carrying with them inside. In the market, you can find various models and types of X-ray inspection devices for examples like handheld metal detectors, walkthrough metal detectors, baggage scanners, and others. They are the most commonly used in the market.
For many years, security screening has been a common practice at airports but recently has undergone a significant amount of changes. The newest technologies for airport security screening are incorporated into whole-body imaging machines. Mostly by scanning X-ray or very high-frequency radiation of radiofrequency over the form of the passenger, they operate. These whole-body X-ray scanners of low output or millimeter-wave scanners can offer alternatives for conventional manual search methods of pat-down and also extend the capabilities of detection of already existing technologies. The machines have been designed for the detection of explosives and weapons which can be carried by passengers on board in a form of aerosol, gel or liquid. The technologies are being heavily used in some of the biggest nations of the world. The millimeter-wave scanners are presently the most common systems which are deployed in airports all over the world.
Advantages of Scanner and Detector Devices
Some types of Scanners and Detectors like handheld metal detectors are very easy to use and do not even need any kind of technical knowledge. Mostly they are light in weight and the users can hold them in their hands without any effort while operating. They are available with a handle that allows you to easily move them via the body during check out any suspected object.
Trustworthy and Consistent
X-ray security scanners can consistently perform and offer highly reliable results. The security person can utilize these devices in government offices, events or buildings, public places like airports, movie theatres, shopping malls, railway stations, and other places where it is required to have high security. These devices can offer trustworthy and easiest ways for improving security.
Some of the scan and detection devices are highly sensitive and due to that, they can detect a variety of metallic objects like non-iron and iron objects. They are available with a high-pitched easy to hear alarm along with a very bright red light which can assist with the process of detection.
Detecting Non-Metal Objects
Walk-through scanners are having an apparent flaw when it is about liquid substances, plastic, cream or smuggled goods that can be concealed by anyone in their body with ease while passing via detection processes. Adding to that, several kinds of liquid or plastic objects can be deemed to be extremely hazardous inside public places. In this case, a complete body scanner can be a valuable asset. For restricting the transportation or smuggling of drugs or other types of illegal substances inside or outside of a facility.
Avoid uncomfortable manual searches
Many people, mostly women feel very uncomfortable with the touch search method and taking off their clothes while the security team is doing a thorough search of the body of the person to check if they are hiding any illegal substance hidden under their body. A lot of people feel that their privacy is getting violated.
The deployment of scanners and detectors also gives you the advantage of evading terror attacks. They can demotivate the terrorist from even thinking about hiding the items inside their body. This can assuredly increase the security of any country and those who are visiting any foreign land.
Types of Scanners & Detectors supplied by us –
Mail & Small Parcel Scanners
Mail and small parcel scanners are ideal X-ray security scanners to ensure that parcels, mails, and small packages which go through the machine are not having any contraband or any objects that are forbidden.
The entire corporate range of check point scanners can offer single-energy or dual-energy scanning with classification technology of material that detects contraband and threats in handbags, briefcases, airport, and mail security bags.
Large Baggage Scanners are extremely cost-effective and have been designed for meeting the main requirements of custom facilities, airports, parcel services, carriers.
Our supplied range of cargo screening solutions is suitable to be used in ports, airports, stations, and all types of freight security.
Our Mobile Screening solutions have been equipped with an advanced X-ray Security Scanner having tunnel size that ranges from 100.0 cm x 100.0 cm (39.4" x 39.4").
Car and Truck scanner decreases the time of inspection for the vehicle and the cargo which is transported by applying the penetrating X-ray along with material discrimination technology that ensures the identification of non-organic and organic metals and materials.
Walk Through & Hand Held Metal Detectors
These modern-day metal detectors are used today to not just protect airports but are also used in theatres, office buildings, and other important places
For all your requirements of high-class baggage scanners for airports in the Middle East, get in touch with us.
Get a Quote