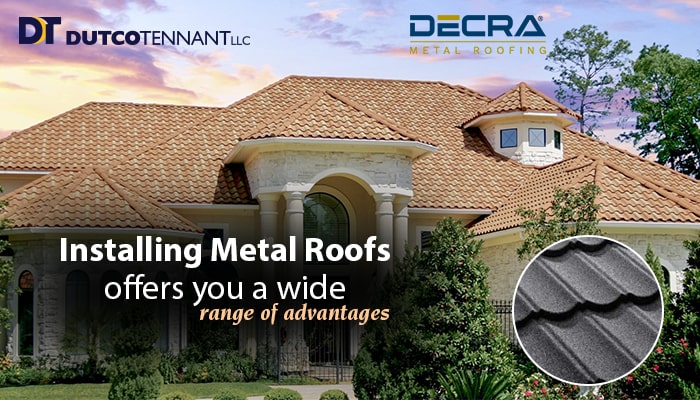 METAL ROOFING – NOT JUST A LUXURIOUS CHOICE, COMES WITH SEVERAL ADVANTAGES
Into the mainstream industry, metal roofing has taken up a bigger space and has turned into a viable option for nearly all the homes except those who have a very flat roof pitch.  Nowadays, shingle-style metal roofing products are also available which are hard to differentiate with traditional asphalt shingle roofs. If you are wondering about the benefits of metal roofing, then here we are with an amazing list.
Not Just a Novelty
There was a time when commercial metal roofing was only found in high-end, architect-designed homes. But those times are now long gone. Metal roofing has grown and now is increasingly being found in conventional buildings because of it's increasing availability and improved manufacturing processes. Presently, around 15 percent of all roofing installations use metal roofing materials.
They can be installed over existing roofs
Metal roofs have the ability to be easily installed over your existing roof without tearing off shingles if it is allowed by the local codes. While the preferred route is shingle removal, tear-off is messy and it raises the cost of the job. A possible and common problem with this type of installation is the trapped water vapor. When it is trapped in between the metal roofing and old roofing, moisture can get built up and it causes rot and mold. Roofers can also install a vented metal rood which eliminates this potential problem.
Not noisier than Asphalt Roofing
There is a common misconception that metal roofs are noisier than asphalt roof but if they are installed properly, then metal roofing is no noisier than any other type. Metal roofing is mainly installed over a solid substrate. The attic and insulation additionally offer a sound barrier. Inhabitants will not notice any increase in sound levels when a metal roof is installed.
Metal Roofs Do Not Attract Lightning
Metal roofing never increases the risk of a lightning strike, but id metal roofing anyhow gets struck by lightning, it becomes less combustible than conventional roofing materials. Metal roofing is an electrical conductor and also a non-combustible material, the risks which are associate with its use and behavior during any lightning event makes it a very desirable option.
Very Cost-Effective
Most metal roofing products come with warranties and metal roofs have known to last for 50 years or more. They are known to have a longevity of 40 to 70 years. If you install the one you can be assured to have no issues with it over your lifetime but for an asphalt shingle roof you may need to change it two or even three or four times over a 50-year period.
Impervious to Rot, Fire and Insect Damage
One of the main reasons that metal roofing has exploded in popularity is that it is virtually fireproof. Insects like termites can never do any harm to metal roofing, metal roofing is impervious to rot and mildew, and as it quickly conducts heat from the sun, the snow quickly slides off more than in comparison with conventional roofing.
Very Energy Efficient
Metal roofs have the ability to reflect solar radiant heat which can reduce the costs of cooling by 10 to 15 percent. In climates in which there is a higher cooling cost in comparison to heating costs, a coating metal roof having shiny or granular coating can maximize the reflective capacity of the roof and improve the savings on energy.
Metal Roofs Are Recyclable
Metal roofs will not require to be replaced but if required, the old metal is readily accepted at metal recycling outlets.
Dutco Tennant LLC is a leading provider of industrial & residential insulated metal roof tiles in the GCC region. We have supplied metal roofing solutions for a number of projects in countries like Oman, Bahrain, Kuwait, & U.A.E. For any enquiries, please write to us.
Reach out to us to exchange your thoughts & contact with the leading provider of metal roofing : info@dutcotennant.com
Get a Quote