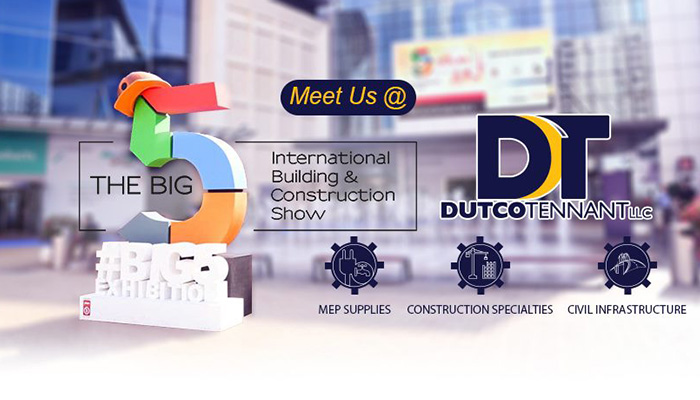 The Big 5 Dubai - Dutcotennant Exhibition Product Categories
The Big 5 is the largest and the most influential show about building and construction in the Middle East. First began in 1979, the vent has launched hundreds of thousands of products, facilitated partnerships, advanced knowledge, and industry best practices while serving as the gateway for international companies to access the Middle East market. The Big 5 is held annually in Dubai in late November and attracts a large number of participants. Organized by dmg events, there are five annual editions of the exhibition that take place in the UAE, Saudi Arabia, East Africa (Kenya), Morocco, and Egypt. The Big 5 turns into a global hub for the construction industry catering to the needs of all construction projects from inception to completion. Focused on the construction sector and its products in the geographies where they take place, the events draw influences and content from across the spectrum of built environment interests. Along with the Big 5, there are 6 specialized co-located events: The Big 5 Heavy, Middle East Concrete, HVAC R Expo Dubai, The Big 5 Solar, Middle East Stone, and Urban Design & Landscape Expo. The launch of these additional events reflects dmg events' declared strategy of using geo-adaptation as it pursues regional expansion. Gathering buyers and manufacturers of construction products from around the world, The Big 5 and the co-located events also offer a broad educational agenda, with high-level conferences and over 100 CPD-certified workshops across four days.
The Big 5 Show in Dubai has been home to the largest gathering of construction professionals in the Middle East for over 35 years. Every year, thousands of exhibitors from across the globe showcase certified and innovative products related to the construction industry. This video demonstrates the products that were exhibited by Dutco Tennant at The Big 5 Show in 2014.
Being the largest construction exhibition in the Middle East, The Big 5 Show serves as a networking platform for construction product suppliers and buyers. The Big 5 provides a 360-degree platform to the construction industry. More than 80,000 participants attended the 2014 edition of The Big 5 Show, making it the largest event in The Big 5 history. At The Big 5 2014 edition, Dutco Tennant showcased various innovative products including Flange Adaptors, Water Hammer Arrestor, Thermostatic Mixing Valve, Check Valves, and Pressure Reducing Valves among others. See the below video to know more about the technical specifications of these products and assess their suitability for your projects right here.
Get a Quote