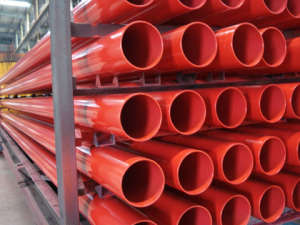 Every year thousands of facilities get affected by the fire and result in injury and building damage. Fire is a serious threat to the safety and security of any building. The main objective of fire safety efforts should be to prevent loss of life and property damage by installing and maintaining reliable fire safety equipment. Fire safety arrangements have become the basic necessity for residential buildings, offices, schools, multi-story buildings, shopping malls, stadiums, etc. Installing fire alarms and proper evacuation signage is just the first step of minimizing fire damage. Buildings need to be installed with fire extinguishers, fire sprinkler systems, fog nozzles, hydrants, firewater storage tank and other fire protection products to help surpass fire hazards. Investing in fire safety equipment installation and regular maintenance is an easy way to prevent building fires.
CPVC and Galvanized Steel – pipes & fittings are the most widely used among all the plumbing systems in all commercial and industrial buildings comprising of Office buildings, Education, Healthcare, Hospitality, etc. They are featured with superior corrosion resistance, longer and reliable performance without the threat of copper leaching and subsequent water contamination. They are available in various diameters and lengths based on the customer's requirement.
Galvanized steel pipes are made from galvanized steel which resists corrosion from exposure to water or the elements. It is hugely used for water-supply pipes or as strong tubing for outdoor applications. Galvanized pipes are coated with a layer of zinc. This zinc provides a barrier against corrosion so that the pipe may be exposed to the outdoor environmental elements. The protective barrier proves equally effective against damage from indoor humidity. Galvanized steel pipe is hot- dipped in zinc to have a protective coating on the walls of the pipe. The zinc coating (galvanizing) acts as a sacrificial anode to reduce the corrosion of steel pipe. This type of pipe is used in a variety of settings. Galvanized steel was utilized for water-supply pipes in construction. It is used in outdoor applications wherever the strength of steel is desired, such as fence posts and rails, scaffolding and as protective railings. Galvanized steel pipes, supplied by are Pre-manufactured steel tubes dipped in molten zinc providing excellent corrosion resistance. Steel pipes and tubes are available in various diameters and lengths based on the customer's requirement. These pipes are highly beneficial for use in sprinkler systems.
If you are looking for the most high grade quality of steel pipes, then contact us to know more about our range of offerings.
Features
Steel tubes undergo the hot-dipped galvanizing process.
Pre-manufactured steel tubes dipped in molten zinc to provide excellent corrosion resistance.
Range includes pipes from 21-273 mm outer diameter.
Used widely in building projects as sprinkler pipes