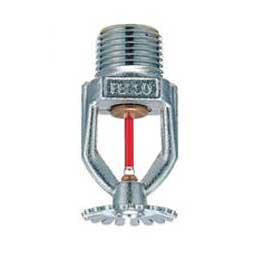 Fire is a serious threat to the safety and security of any building and affects thousands of facilities each year resulting in injury and building damage. The major goal of fire safety efforts should be to prevent loss of life and property damage by installing & maintaining reliable fire safety equipment. Dutco Tennant LLC offers a wide range of fire safety equipment that can be used inside buildings for fire protection and preventing damages due to fire. These products are curated from the top manufacturers of the world and are reliable and provide unmatched quality service. Fire safety arrangements have become the basic necessity for residential buildings, offices, schools, multi-story buildings, shopping malls, stadiums, etc. Installing fire alarms and proper evacuation signage is just the first step of minimizing fire damage.
For many commercial and residential structures, sprinkler heads are the last line of defense. The different range of sprinkler heads offered by us includes Standard, Concealed, Flush Type and Fusible Type, that is specifically designed to provide spray coverage of fire suppressing water or foam, utilizing different methods and under differing circumstances. Fire Sprinklers discharge water when the pre-determined temperature exceeds its limit. In sprinkler- protected buildings, sprinkler alone controlled fire in over 99% of cases.
Standard Sprinklers :
Standard Sprinklers are specially designed to perform the full function with compact size. By using the reliable glass bulb, it is simple but precisely working products in various circumstances and temperatures.
Concealed Sprinklers :
Concealed Type Sprinklers are designed to meet both aesthetic and practical requirements for airports, high-class hotels, luxurious apartments, and sports facilities. This unique design allows sprinkler hidden behind the provided cover plate. This plate 10mm of field adjustment capability providing easy assembly and tight fit against the ceiling.
Flush Type Sprinklers :
Flush Type Sprinklers are designed to harmonize with any interior design. With precise deflector design and world patent heat collecting technology, the outstanding fast, and accurate performance comes with its small body. Residential Type Sprinkler is designed to offer a fast response. It provides appropriate discharge and sprays pattern to suppress the fire in a residential area. This offers a wider discharge angle to cover even to walls. Mainly installed at apartments, houses and multi-service business areas.
Fusible Type Sprinklers
Fusible Type Sprinklers are a simple and stable sprinkler. Side Wall Type Sprinkler is available in both horizontal and vertical type. It offers a rectangular spray pattern, and ideal for use in hard-to-install areas such as fire-prevention shutter sections, mechanical parking buildings, hotels, and escalators.