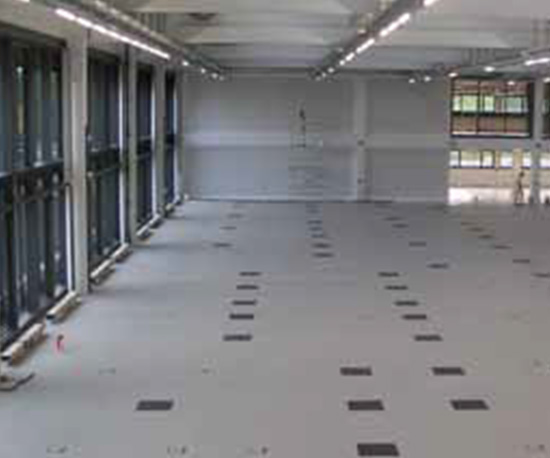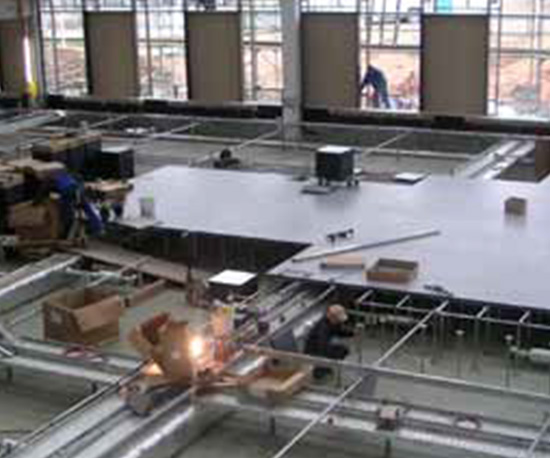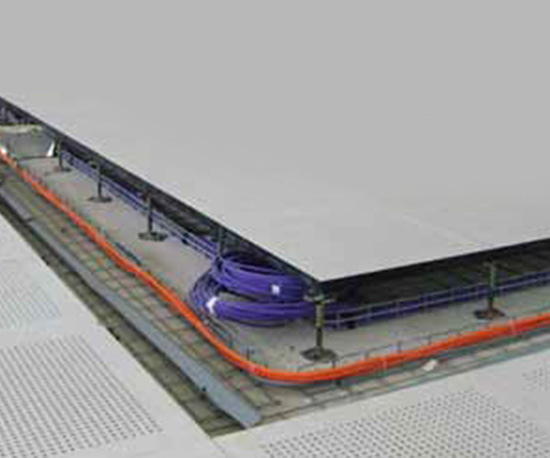 Dutco Tennant LLC is not just a leading supplier of industrial and engineering solutions but is also a complete solution provider in the Middle East and GCC region. We have been working with a large clientele comprising of public and private companies and have worked with them on various infrastructural development projects which have been helping to build a modern world. For the past four decades, we have been earning a place of trust in the heart of thousands of customers around the world and have been a supporting hand behind various projects like schools, colleges, universities, offices, industrial plants, hospitals, museums, airports, shopping malls, etc.
The Calcium Sulphate Core panels give superb underfoot comfort and offer an outstanding level of soundproofing. Calcium sulfate (gypsum) is a non-combustible flooring products with superlative structural and physical properties. There is also a practically limitless choice of floor coverings. The aforementioned panel offers high load capacity, good antistatic properties, environmental protection, fireproof, waterproof, and rotproof. The raised access panel is being stable to changes in humidity and temperature and offers very high loadability.
The structure is encapsulated with a high-density fiber calcium sulfate core. The floor panel is encapsulated to provide full steel encasement, steel to be high quality galvanized steel sheet as top and bottom and high-density calcium sulfate as the core.
Calcium sulfate core panels with reinforced fiber satisfy the highest quality fire safety standards. Calcium sulfate panels also provide excellent acoustic properties. With their high density, these panels can also withstand heavy loads. The upper surface of the panel can be supplied bare or with an adhered layer of aluminum foil, steel, melamine, PVC, linoleum, rubber, carpet, hard laminate or stone. The underside of the panel is either bare or can be specified with an aluminum foil or galvanized steel cover. The aluminum protects against humidity while the galvanized steel provides an alternative option where a particular point load is required. We supply them in standard dimensions and there are also other dimensions available upon request. Anti-static calcium sulfate raised floor is widely used in telecommunication rooms, power stations, computer rooms, factory clean rooms, and other anti-static requiring places.
A calcium sulfate-raised floor is an innovative solution that can be installed for creating a much more organized and manageable space while using the current dimensions of the room. These durable interior floors can offer exciting structural support while offering ample open space under the panels for the distribution of air and running all the various types of cables, wires and cutting out of sight and hide them away. Comprising of a recycled calcium sulfate core that is sealed with high-class ABS along with galvanized steel bottoms. These raised flooring systems are eco-friendly, rot-proof, waterproof, fireproof, rigid, durable and offer static acoustic performance.
Feature:
Full steel encasement and good sealing.
Constituted by all-steel sheet, good loading capacity.
High dimension accuracy and excellent interchangeability.
Water-proof, fire-proof, antisepsis and sound insulation.
Elaborately made and good decorative effect.
For more details and information like pricing, availability and other details feel free to contact us.
VIDEOS
Features
Superb underfoot comfort
Very high load capacity and good anti-static performance
Low air leakage rate
Environmental protecting, waterproof, fireproof, rotproof.
Being stable to changes in humidity and temperature
Areas of Use
Foyer and reception areas
IT control centres
Training and research rooms
Office and hotels