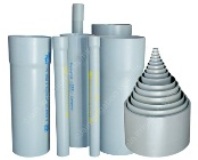 Unplasticized Polyvinyl Chloride or uPVC pipe fittings are also known as rigid PVC and are used for all the plumbing purposes in commercial & residential buildings. They come second to PE pipes and are much better than the galvanized pipe, cast iron pipe. Without the help of a plasticizer chlorine in PVC raw materials will get evaporated completely. They are highly resistant to corrosion when compared to cast iron pipes and galvanized pipes. These pipes are having amazing corrosion resistance, strong resistance to alkali, and acid with no rust and scaling. You will no need to worry about the phenomenon of "out, yellow water, red water" when you are using uPVC fittings. These fittings have low fluid resistance as the inner wall of the PVC pipe is very smooth. Its surface roughness coefficient is just 0.009 with very small fluid resistance and large conveying capacity.
UPVC Pipe fittings have high mechanical strength and good water pressure resistance, tensile strength, impact resistance. The atmospheric pressure of 110 can be withstood by it for 1 hour at room temperature without breaking. These fittings use a very unique green lead-free formula system instead of the traditional compound lead salt formula system so it will not destroy the quality of water and affect the health of the human. UPVC is characterized by easy installation, light texture, and construction. The density of PVC pipe is one fifth compared to ordinary cast iron, and is very easy to transport, load, and unload. For socketing, special adhesive paste or elastic seals are used that make construction and installation simple and fast. UPVC fittings are characterized by room temperature for water supply. With low temperature, the brittleness can get increased which is not conducive for installation and construction. The tensile strength decreases when the temperature is high and water pressure resistance also decreases.
uPVC pipes and fittings are mainly suited for looping at each floor level, concealed pipelines for cold water distribution, outdoor installations. uPVC is also highly renowned for having strong resistance against sunlight, chemicals, and oxidations from water. UPVC is used all over in construction sectors for its durability, cheap pricing, and easy workability.
Features
Manufactured from high quality PVC compound.
Excellent corrosion and chemical resistance to most acidic and alkaline solutions.
Light weight.
Easy to handle and transport.
Excellent flow characteristics.
Smooth inner wall minimizes frictional losses and scaling due to precipitation.
Specifications
Available as per IS-4985, DIN-8062 and ISO-1452-2.
Also manufactured to BS-3505/3506, ASTM D1785-84 and ASTM D 2241 on demand.
Available in sizes from 20 mm (½") to 560 mm (20") as per above standards.
Commonly supplied in 6 m lengths with plain ends or socketed at one end for solvent cement weld (Any other pipe length can be supplied on request).