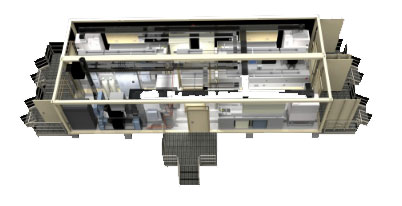 The Modular Biosafety Lab ( BSL) is a Self-Sustained Mobile Laboratory System that provides a workspace in which operators can work safely with chemical and biological materials. BSL has the ability to respond to intentional and unintentional incidents involving biological and chemical agent release.
These Lab. can be deployed / pre-positioned where there is a risk of biological and / or chemical terrorism or to support public health missions such as an influenza outbreak or natural disaster response.
Mobile Biological Safety Laboratories provides primary and secondary containment within mobile and modular laboratories that serve as the foundation to support BSL-3 operations.
The threat of disaster involving chemical, biological, radiological or nuclear (CBRN) agents is a very real possibility in today's global environment. We leverages state-of-the-art technology to help disaster response personnel meet the challenge of a CBRN attack.
APPLICATION
Rapid response for epidemics or potential outbreaks of disease
Agricultural, Veterinary and Public Health Surveillance
Advanced capabilities for First-Responder and Hazmat operations
Disaster management capabilities for regional and national agencies
On-site threat assessment to detect and identify suspicious or unknown materials
PRODUCTS COVERED
Construction Mobile Lab.
Environment Mobile Lab.
Medical Mobile Unit
Emergency Mobile Unit