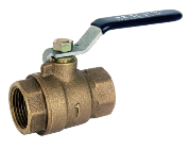 Bronze Ball Valves are Standard Port, 2-Piece which are used for industrial and commercial projects for a wide range of gases and liquids application. These valves feature a pressure retaining stem which is blowout proof. A minimal drop in pressure is ensured by the standard port orifice. The End Connections are Solder-ended or threaded.
Ball Valves are very easy to use and can be installed easily. They can suit for a wide application when the resistance of corrosion is not a very big issue. The most advantageous benefit of the Bronze Ball Valves is that they can be worked with ease and can be installed without any problems. These valves are also very popular and the sealing products which can be used to seal them can be found very easily. While sealing other metal types, you in many cases will require a specific type of pipe or thread sealants. They are not that tough to find out, but you will be able to find them easily compared to others. Over the last few years, the transition to No Lead has brought in a wide range of drastic changes. There is a huge difference of price among no lead and leaded Brass from a perspective of material so it is good to have the option of using the led for applications of non-potable water. This can create a lot of savings. Our Bronze Ball Valves have been designed especially for Plumbing applications. They are found with NPT threaded ends and BSP. They will deliver you with the best-in-class performance for general purpose, plant-wide applications. These types of valves are having a double stem design for offering quality performance in applications of the high cycle. The co-efficient flow offers a complete flow of the media from the water delivery systems and stations for filling which makes way for no delay in filling time. Our valves are an amazing mixture of copper, tine and in some cases lead and other metals which can hold up very well in conditions of corrosion. They are used often in instanced where the valve will get exposed to harsh water as they are resistant to corrosion. We would like to introduce you to the best-in-class bronze-ball valves in the industry.
For all your needs of plumbing equipment, get in touch with us and receive the most value for money solutions.
Features
Available in Screwed BSP Taper (ISO 7/1) or NPT (ANSI B1.20.1)
Full Bore
PTFE Seats & Seals
PN40 Rated
Blow-out Proof Stem
WRAS Approved
MSS-SP-110
Technical Data
| | |
| --- | --- |
| Max Pressure | 40 Bar |
| Working Temperature | -10°C to +140°C |